Internet Modeler : First Look : Aviation
RSS News Feed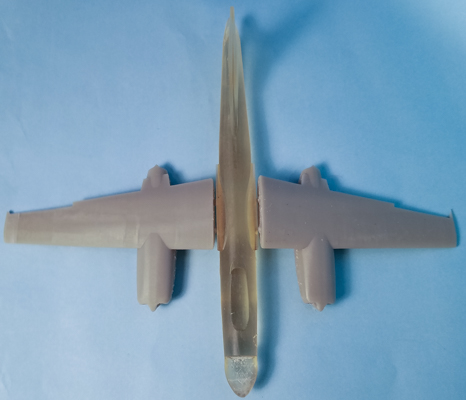 Riverman Models 1/144 B-45
Introduction
"The North American B-45 Tornado was an early American jet-powered bomber designed and manufactured by aircraft company North American Aviation. It has the distinction of being the first operational jet bomber to enter service with the United States Air Force (USAF), as well as being the first multiengine jet bomber in the world to be refueled in midair."
Riverman Models is a one-person affair that is now producing his own models. Riverman Models isn't exactly new as he has designed some stunning kits in the past for Click2Detail and Shapeways; however, C2D stopped producing and Shapeways pricings are causing concern among prospective customers.
To overcome both of the above issues for him, he has bought his own Resin 3D printer and is now designing and producing his own models for sale. Riverman Models is Russel Dutnell and if you want to see everything he produces, send an email to rdutnell@ou.edu. He actually has a pretty vast catalog. But be aware that as a "one man show" the prices are a little more than normal and it will take time to receive your model.
The Kit
The Riverman Models 1/144 B-45 consists of 35 parts all in resin. He casted most of mine in clear because he had run out of gray resin after printing the B-45 wings and I gave him permission to do so. The wings look best in gray but the rest of the clear resin printing is well done. Unlike Shapeways product that I have, the striations in the resin aren't as "large" resulting in less time sanding. Which is good. One primary reason I haven't finished a 3D-printed kit yet is because of having to sand down all parts to remove the striations.
I've attached the instruction sheet so you have a sense at what's involved. This isn't a standard model, especially as there is no cockpit included at all. You could hollow the area out and add your own, since he does include a clear-resin canopy, but that will be some work.
I'm personally hoping he'll make an RB-45C and at that time I will put in the extra work to add a cockpit. For now, I'll just add the canopy - maybe paint it blue (right, Don?) - and carry on.
Conclusion
Check with Russ if there's anything "unusual" you don't see in the typical model market you would like to see in 1/144. There's a possibility he already has it or, if there is enough interest, he just might make it for you. Yes, there is a little more work than a typical model - especially in sanding the striations out - but if you want the unusual then you'll need to perform some work. I'm definitely looking forward to working on this kit. Remember to email rdutnell@ou.edu if you would like to have a B-45 in your 1/144 collection, or just to ask for his catalog. You'll be glad you did.