Internet Modeler : First Look : Aviation
RSS News Feed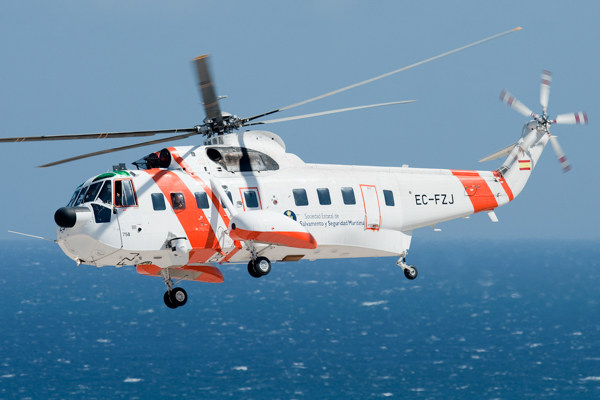 Riverman Models 1/144 Sikorsky S-61N "Coast Guard"
Introduction
Taken from Wikipedia:
The Sikorsky S-61L and S-61N are civil variants of the successful Sikorsky SH-3 Sea King helicopter. They are two of the most widely used airliner and oil rig support helicopters built.
The header image is also from Wikipedia and taken by Peng Chen.
The Kit
The Riverman Models 1/144 Sikorsky S-61N "Coast Guard" consists of a lot of parts. Sorry, it was difficult to count because I do not want to take the parts out of their baggies since the baggies contain the part numbers. Also realize that Riverman Models do not come with decals so you're on your own to source those.
You can see in the parts-exploded diagram how the kit goes together. It comes with a decent interior that could use a little extra detailing but I'm not sure how much will be seen through the windows. There are options with the kit as well: sponsons with or without flotation gear; compressed  or uncompressed deployed landing gear; gear-up parts; forward door open or closed; aft door open (with stairs deployed) or closed; tail wheel compressed or uncompressed; two different types of radar noses. A very comprehensive release.
Since this is a 3D print, you can expect some striations from the print. Thankfully they are very few and far between; the level of printing on this release is first-rate. Construction shouldn't be difficult once the parts are cleaned up.
My only area of concern is the main canopy. It had its "printing lugs" on the inside of the canopy so after the removal of those lugs clean up is necessary, followed by a good polishing. The biggest problem lies in the shape; definitely take your time sanding and after polishing it should look very clear.
Conclusion
This is a very nice printed kit! The Riverman Models 1/144 Sikorsky S-61N will build into a very nice looking model, especially since a lot of the organizations that flew it made it very colorful. Sure, you'll have to source your own decals, but there are examples out there where those types of markings are minimal. The final result relys on your ability with an airbrush and masking.
Huge thanks to Riverman Models for the review helicopter. Remember you need to email him (at rdutnell@ou.edu) on how to order any of his 3D prints.