Internet Modeler : First Look : Aviation
RSS News Feed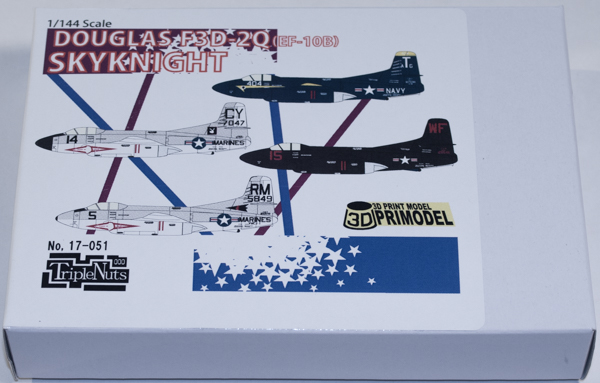 Triple Nuts 1/144 Douglas F3D-20 (EF-10B) Skynight
Introduction
Because this is really well written, the introduction is taken from Wikipedia:
"The Douglas F3D Skyknight (later designated F-10 Skyknight) was a United States twin-engined, mid-wing jet fighter aircraft manufactured by the Douglas Aircraft Company in El Segundo, California. The F3D was designed as a carrier-based all-weather night fighter and saw service with the United States Navy and United States Marine Corps. The mission of the F3D was to search out and destroy enemy aircraft at night.
"The F3D Skyknight was never produced in great numbers but it did achieve many firsts in its role as a night fighter over Korea. While it never achieved the fame of the North American F-86 Sabre, it did down several Soviet-built MiG-15s as a night fighter over Korea with only one air-to-air loss of its own against a Chinese MiG-15, which occurred on the night of 29 May 1953.
"The Skyknight played an important role in the development of the radar-guided AIM-7 Sparrow missile which led to further guided air-to-air missile developments. It also served as an electronic warfare platform in the Vietnam War as a precursor to the EA-6A Intruder and EA-6B Prowler. The aircraft is sometimes unofficially called "Skynight", dropping the second "k". The unusual, portly profile earned it the nickname "Willie the Whale". Some Vietnam War U.S. Marine veterans have referred to the Skyknight as "Drut", whose meaning becomes obvious when read backwards. This may be in reference to its age, unflattering looks or its low-slung air intakes that made it vulnerable to foreign object damage (FOD)."
The Kit
The Triple Nuts 1/144 Douglas F3D-2Q (EF-10B) Skyknight is a 3D printed kit and consists of 20 pieces plus one clear-resin canopy. Decals are for four aircraft, none of which are called out by squadron or anything like that. Two are US Marines gray and white aircraft, one all-blue US Navy aircraft, and one all-black USMC aircraft.
Construction will be relatively quick. Add the wings, tail surfaces and separate nose (although the instructions don't state if you'll need any, you may want to add weight inside the separate nose). Add the separate ejection seats after you paint them and the cockpit, and then add the clear canopy. Mask it and now you're ready for painting.
After painting and adding the decals then you can finish the model with the landing gear, gear doors and external fuel tanks.
Conclusion
As far as I know this is the only kit of the Drut in 1/144. It shouldn't be a difficult build and could be finished quickly.
My thanks to MAKO Models International for the review model. While their web site is still "in progress" you might want to check out their eBay store. When you order, type in 'IM144' for a 10% discount.