Internet Modeler : First Look : Aviation
RSS News Feed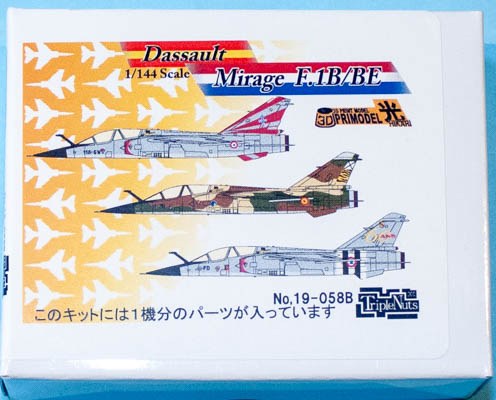 Triple Nuts 1/144 Mirage F.1B/BE
Introduction
The Mirage F.1 was first introduced in 1974 and retired in 2014. It served with distinction in both French and other air forces. The F.1B was a two-seat operational conversion trainer; these were delivered between October 1980 and March 1983. The F.1BE was an F.1B built for Spain.
The Kit
The Triple Nuts 1/144 Mirage F.1B/BE consists of a lot of parts. It was difficult to count because until I actually work on the kit, I don't want to separate any of the sprues apart, nor take any of the parts off the sprue. This kit is printed in Triple Nuts "newer" 3D printing technology which they appear to call "3D Print Model Primodel Hikari". The other, older technology was called basically the same thing, but without the word "Hikari" in the description. It really is a nicer printing than their earlier efforts and will require less clean-up. (For those unfamiliar, 3D printing technology sometimes leaves "striations" or "dithering" on the printed pieces, which require cleaning up for a smooth finish.)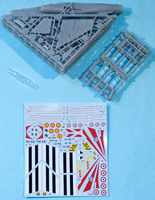 Also included with the kit is a clear, resin canopy. Decals are provided for three Mirage, two French and one Spanish. The French aircraft - one with D-Day stripes for the 60th anniversary of D-Day - have blue-gray upper surfaces and aluminum underneath. The Spanish machine is finished in three colors on top, with aluminum on the underside. Text on the instructions is entirely in Japanese so I'm unsure of what squadrons these jets flew with.
Construction should go quickly, once all parts are removed from their sprue and cleaned up. The fuselage is one-piece so the instructions have you add the ejection seats to the cockpit prior to adding the canopy (best to paint everything before, of course, and mask the canopy prior to painting) as well as adding the nose. Since the canopy is one-piece you may want to add it now, as the instructions show.
The next step has you add the flying surfaces - all being one-piece -along with the wing-tip missiles. The last construction steps have you add the landing gear, gear doors and all external stores. There are a lot within this kit, so you may want to perform research on the specific aircraft you want to model to see how it was "weaponed-up".
Conclusion
Triple Nuts has provided the modeler with an excellent rendition of the Mirage F.1B/BE in 1/144. Since the majority of the parts are for the external stores, construction will go quickly and you'll have a Mirage F.1B/BE on your finished shelves in no time. This will look great once finished.
My thanks to MAKO Models International for the review model. These models are available on their eBay store.