Internet Modeler : First Look : Aviation
RSS News Feed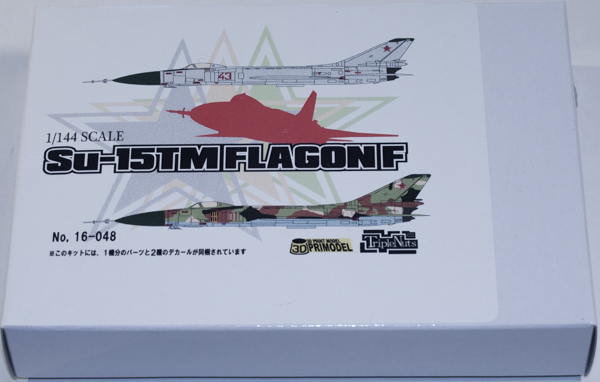 Triple Nuts 1/144 Su-15TM Flagon F
Introduction
The Sukhoi Su-15 was a twin-engined supersonic aircraft flown by the USSR whose primary role was as an interceptor. It entered service in 1969 and was retired in 1993 with the fall of the USSR. It was made infamous when it was used to shoot down a Korean airliner – Korean Air Flight 007 – in 1983, killing all aboard. None of the Su-15s built were ever exported due to its sophisticated systems.
The Kit
The Triple Nuts 1/144 Su-15TM consists of 37 pieces of 3D printed material and includes a clear-resin canopy. Decals are for two schemes, one camouflaged and one in natural metal. Decals appear to be in register and will need to be used to determine how they work. This is my first Triple Nuts kit so I'm unsure about everything.
Even though this is 3D printed it doesn't appear to have any dithering so I don't think there needs to be any surface prep needed. Construction won't be difficult but definitely pay attention. The only part for the interior is a separate ejection seat; however, the 3D printing does a great job with the rest of the internal details. Unfortunately the canopy is one-piece so if you wish to display the canopy open you'll need to cut the pieces apart yourself.
Following the instructions they have you add the landing gear and gear doors when assembling the entire model. Again, I would wait on those until after painting and decaling, along with adding the external stores (which consists of two fuselage tanks and two missiles).
Thankfully the exhaust cans are separate pieces so can be painted separately and added at the end. I'm unsure if you'll need to provide a support for the tail or if it will sit correctly on its gear.
Conclusion
As I mentioned this is my first look at a Triple Nuts kit. Being 3D printed I was concerned if any dithering happened and it appears the external surface is smooth. As far as I know, this is the only Su-15 currently available (Anigrand had one as a bonus kit to one of its larger Soviet aircraft but it wasn't a separate release) so if you're like me and want a Flagon in 1/144 this is a must-buy. Note that MAKO Models International is one of the "official" stockists of Triple Nuts kits. Their web site is still "in progress" so you might want to also check out their eBay store. When you order, type in 'IM144' for a 10% discount.