Internet Modeler : First Look : Ships
RSS News Feed
B-Resina 1/700 Resin/White Metal Hunt Class Destroyers Type I HMS Fernie Type II HMS Badsworth
Introduction
In the late 1930s the Admiralty could see that war was coming, and that it would need many more ships to cover all its obligations. What was needed was a vessel that could support the battlefleet if need be, but also serve in the numerous ancillary functions that a destroyer could be called upon to fulfill. What was decided upon was a ship of 280' OA, with a top speed of 30 knots, three twin 4" guns, one quadruple pom-pom and four torpedo tubes. With the design finalized, orders were placed for 10 of the Hunt class on 21 March 1939, followed by 10 more on 11 April. As the international situation deteriorated further, four additional orders were placed, ultimately resulting in 86 ships in four distinct groups (Types I-IV).
As the first ships were nearing completion (but after the second group had been started), a serious error was discovered in the calculations of the centre of gravity – the ships had a much higher COG than anticipated and drastic measures were called for. In the ships nearing completion the solution was to remove one 4" mount, delete the torpedo tubes as well as other equipment and to add 50 tons of ballast. This was found adequate to correct the 20 Type I and the first three Type IIs which were too far along to change. In the others the hull was cut down the middle and the beam was increased. This allowed a return to three 4" mounts for the Type IIs, of which 37 were built.
War experience was incorporated into the design of the Type III, this had a new bridge, upright funnel, two twin 4" mounts. Also added was a twin torpedo mount for use against enemy ships at night or in low visibility. 28 Type III Hunts were built.
The final variant was a private venture by Thornycraft, based on their previous experience they proposed changes to the basic Hunt and came up with a vastly different design. The two Type IVs, Brecon and Brissenden, had a lengthened focsle running almost the entire length of the upper deck to the end of the aft superstructure. They also had a pronounced knuckle bow and an increased overall length to 296'. Gun armament returned to three twin mounts, and a triple torpedo tube mount was fitted.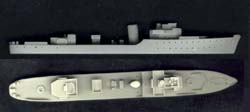 Type I - HMS Fernie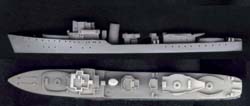 Type II - HMS Badsworth
The Hunts were used wherever the action was hottest and as such they suffered losses accordingly, with 21 being lost and an additional three written off as unrepairable.
A very welcome addition to any collection would be these handsome little ships, but until relatively recently there were none that I knew of. However at least two manufacturers provide kits in 1/700 and 1/350. I'll look at the B-Resina 1/700 offerings first, and then the Iron Shipwright 1/350 kit.
The Kit(s)
Upon opening the boxes I was confronted with an awful lot of packing popcorn. Hidden amongst all this was the resin hull and a baggy full of metal parts. Let's start with the hull.
The hulls are nicely molded with very fine details incorporated into them. This is good as ALL parts are molded in situ, the only additons are the white metal parts. The different bridges and Pom-pom platforms are apparent, as is the differences in splinter shield arrangements. The splinter shields are very thin – so thin that I broke two of them with a toothbrush while washing the parts prior to painting. Many of the other details, such as depth charge rails and launchers may be better replaced from a PE set purloined from some other kit or aftermarket set.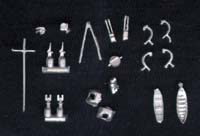 Type I - HMS Fernie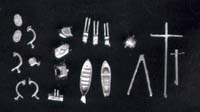 Type II - HMS Badsworth
One problem with the hulls is a slight error in aligment of athwartship elements, they are just ever so slightly off the perpendicular to the centreline. This is only noticable if you really look for it, and shouldn't be a problem for all but the most anal of builders.
White metal parts consist of: gunshields, 4" guns, pom-pom, 20mm Oerlikons, mast and tripod, davits, boats and the gunnery director. All appear to be useable, although some may wish to replace the 4" mounts with the WEM resin set, and also to add some PE rails.
Instructions are on a single sheet and show construction of the various metal fittings and their location on the hull. There is also a cross-hatched profile of the ship showing the camouflage pattern worn.
Conclusion
I am very pleased with these two kits. Both have a nice level of detail, with scope for additional work if the builder so desires. With a minimum of construction required, these are basically ready for painting, and with 86 ships in the class there are a lot of them to choose from.
I ordered my kits from Lisa Norman of the company formerly known as Rocky Mountain Shipyard for $15 each, plus a flat $5 fee for postage (in the USA - it was more to Canada). At that price I will be sure to order more of them.