Internet Modeler : New Releases : Armor
RSS News Feed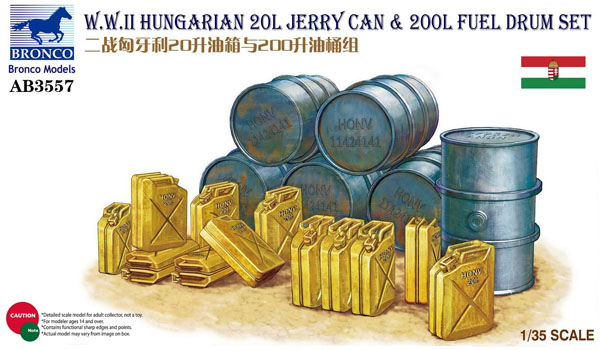 Bronco 1/35 WW II Hungarian 20 l Jerry Cans and 200 l Fuel Drum Set
Kit# AB 3557
M.S.R.P.  $16.00 USD
This kit consists of parts to make 6 200 liter fuel drums, and 12 20 liter fuel cans.  Each barrel consists of 8 pieces; left & right halves, top and bottom plates, and 4 stiffener rib sections.  These are much heavier ribs than the pressed-in ones on previous examples, and look correct based on photos.  The barrel halves line up well, but the end plates could be a bit larger, as they don't quite cover the openings, leaving a bit of a gap.  Best alternative seems to be centering them and moving on.  The ribs do close completely, filling their gaps nicely.  Finish sanding is quick and easy due to the generally good fit.
Each 20 liter fuel canister consists of 5 parts; left and right halves, photoetched spacer/weld seam, 3 bar handle, and choice of pour spouts.  These are the classic German-style cans, but with HONV code, date, and "20l" markings.  Each of the little photoetched frames has 4 spacers, and they come packed in their very own tiny zip-lock bag.  These cans fit together very well, with very little clean up needed.
These are great diorama accessories, especially for any late war, Eastern front subject.  On-board vehicle stowage, cargo truck contents, let your imagination be your guide.  This kit is well recommended.  My sincere thanks to Stevens International for supplying this review kit.  Happy modeling!