Internet Modeler : New Releases : Aviation
RSS News Feed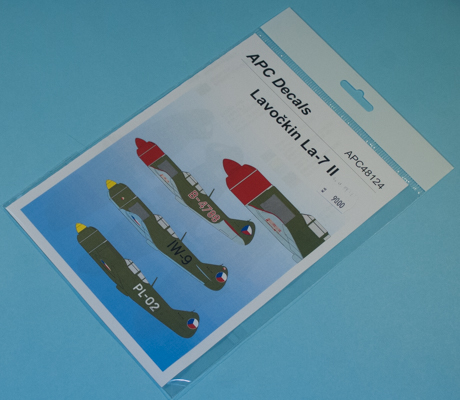 APC Decals 1/48 Lavočkin La-7 II
Since APC Decals is from the Czech Republic, it's only natural they release subjects that are Czech-based. Be it actual Czech aircraft, or aircraft of other nations flown by Czech pilots, there are plenty of decals from APC Decals for Czech-marked aircraft.
This is definitely the case with this release. There are three Lavochkin La-7s finished in Czech markings:
S-97, v.

č

. 38101465, PLU Olomouc (finished overall in Khaki with a yellow spinner)
S-97, v.

č

. 38101465, 1. Letka LP 1, Tri Duby 1947 (finished with khaki uppers and a light blue underside, with a yellow spinner)
La-7, v.

č

. 38102764, Bezpe

č

nostní letka SNB (finished with khaki upper and a light blue underside, with a dark red nose, spinner and wing leading edges and, I think horizontal tail surfaces)
Decals are nicely printed and apper to be in register. Unfortunately the last La-7 I can't really tell if the entire horizontal tail surfaces should be dark red, only the upper sides or only the leading edge. That one really does need more research as the color profile doesn't include the horizontal tail.
Aside from that, though, if you're looking for decals to make your 1/48 La-7 into a Czech bird, then by means pick up this decal sheet.
My thanks to APC Decals for sending this in for review.