Internet Modeler : New Releases : Aviation
RSS News Feed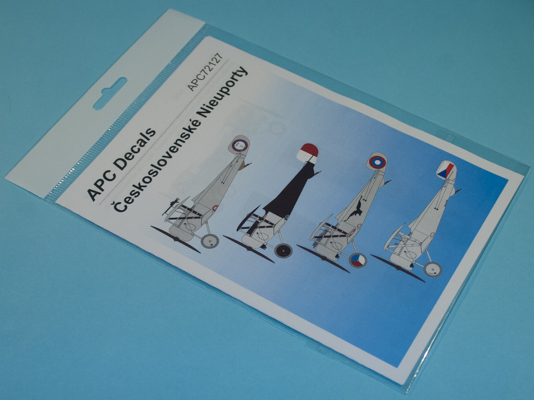 APC Decals 1/72 Československé Nieuporty
Being that APC Decals are from the Czech Republic it comes as no surprise they would cater to Czech-flown aircraft. This is definitely a super set of decals - with excellent registration and brilliant colors - and there are four Nieuports - in eight possible configurations - catered for on this release. All text is in Czech so I'm only able to provide the highlights of the aircraft as I unfortunately don't know Czech:
Nieuport 21, v.c. 1359 (overall aluminum-doped aircraft with Russian national markings on ALL flying surfaces, upper and lower)
Nieuport 21, v.c. 1940 (aluminum dope with brown? red-brown? portions of the fuselage, tail and wings; Russian national markings on wings and rudder only)
Nieuport 21, v.c. 1940 (same aircraft as above with national markings removed and a red stripe with a white outline on the top of the upper wing, and red and white stripes on the underside of the lower wings, plus a red and white rudder)
Nieuport 23, v.c. 3598 (overall aluminum dope with a brown and black bird on the fuselage sides and Russian national markings)
Nieuport 23, v.c. 3598 (same aircraft as above with the Russian national markings removed and Czech flags in their place; brown and black bird marking also removed)
Nieuport 23, v.c. 3598 (same aircraft as the prior to be with black bird marking still in place, Russian markings removed and Ukrainian national colors added to the rudder)
Nieuport 21, v.c. 1940 (same aircraft as above but red/brown only on upper wing center-section, trailing edge and ailerons; no red/brown on the horizontal tail surfaces; Russian markings on all flying surfaces)
Nieuport 17, v.c. 4214 (aluminum dope overall with Russian markings on all surfaces of the upper wing and underside of the lower wings, and on rudder; French-style serial on the rudder)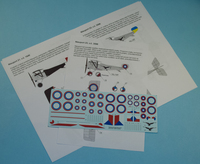 I apologize for being at a loss about further details on these aircraft but like I typed, I unfortunately don't know the Czech language. This is probably the case with my questioning serial "1940" and not knowing if the "other" color is red-brown or brown. Yes, the directions are in color and they appear to be brown, but APC Decals provides no color "call outs", just the color profiles.
An important note: this decal set comes with aircraft serial numbers ("1359", "1940", "3598" and "4214") to apply to all surfaces. For educational purposes, Nieuports had all surfaces marked with the serial number so "parts" could be easily lined up. Since WWI aircraft were all hand-made, there was no guarantee you could swap parts from one aircraft to another. So, they applied serial numbers to the main wing in front of the ailerons; the ailerons; the rudder; the horizontal flying surfaces in front of the stabilizers; and both sides of both stabilizers. APC Decals thoughtfully provides enough serials (and then some) for these four aircraft.
If you're looking for alternative markings for your Nieuports (and who doesn't own 20 or so of the Eduard kit?) then by all means pick up these decals.
My thanks to APC Decals for supplying this review sample. Good thing I bought a bunch of Eduard Overtrees when they were available.