Internet Modeler : New Releases : Aviation
RSS News Feed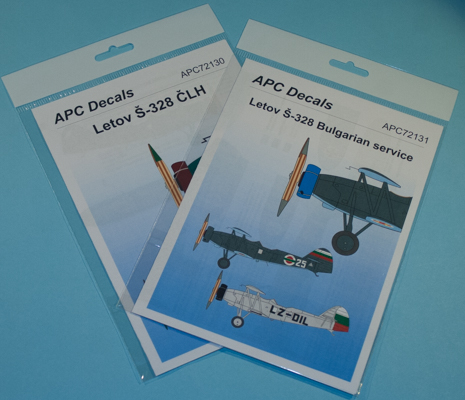 APC Decals 1/72 Letov Š.328
APC Decals has released two sets of decals for different Letov Š.328s in 1/72, the first set Czech civilan-flown, the second set Bulgarian. With the text in Czech on the Czech civilian aircraft I can only provide highlights. It's aircraft "OK-PCP", finished overall in green with a red cowl and red stripes on the fin leading edge and wings' outer wing-tips.
The other decal sheet contains three Bulgarian Š.328s:
Letov Š.328 Vrana, 3. prozkumný Orljak, Jambor 1940 ("white 1", khaki on top, light blue on the undersides and a blue cowl)
Letov Š.328 Vrana, jaro 1945 ("white 25", khaki uppers, light blue lowers)
Letov Š.328.377 Vrana, 1947 (silver overall with either a black or khaki cowl)
If you're looking for alternative markings instead of the Special Hobby (or older KP) kit-supplied decals, then by all means pick one of these sets up. The registration appears spot-on and all decals look great.
I definitely send "thanks" to APC Decals for allowing me to review these sets.