Internet Modeler : New Releases : Aviation
RSS News Feed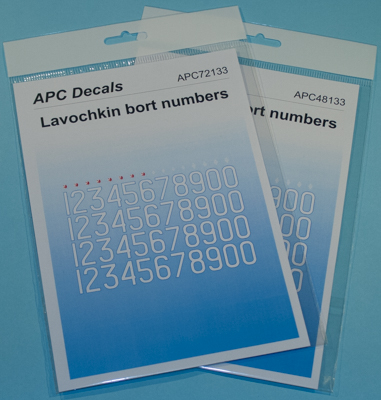 APC Decals Lavochkin Bort Numbers
Imagine that you've found a unique Lavochkin fighter: La-5, La-7, whatever. Now imagine that all you need to finish that Lavochkin model was a set of numbers for the sides of the aircraft. That's where these sets from APC Decals come into play.
Sent for review were 1/48 and 1/72 scales. Each sheet consists of four sets of numbers, ranging from 0-9 with an extra 'zero' (0). Also included are Lavochkin-factory emblems. This has a lot of possibilities for unique Lavochkins.
So if you're looking for "Bort" numbers for your Lavochkin GPW VVS aircraft model, look no further than APC Decals.
I definitely thank APC Decals for these sets of review decals.