Internet Modeler : New Releases : Aviation
RSS News Feed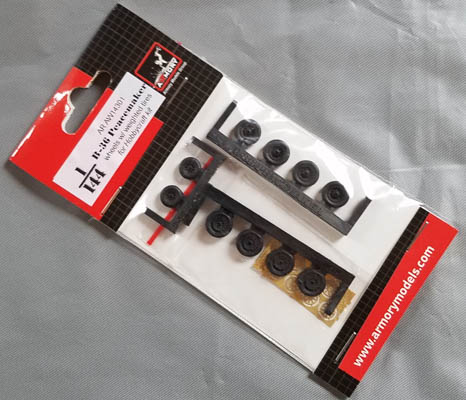 Armory 1/144 B-36 Peacemaker Wheels w/ Weighted Tires
The Hobbycraft 1/144 B-36 has been around for quite some time. Not without its faults it's still a great kit in 1/144. Unfortunately there hasn't been much - if any - aftermarket for the kit. Thankfully that is now being rectified.
Armory has released these 1/144 Peacemaker wheels w/ weighted tires with not only resin wheels/tires, but also photoetch "spokes" to add to the resin. These are very nicely molded and will look great painted and added to your model.
You can see how the kit wheels/tires look compared to the Armory replacements, below. The Armory replacements are definitely a better alternative. Hopefully this means we'll see more aftiermarket attention for this kit in the future.
I definitely thank Armory for sending the review sample.