Internet Modeler : New Releases : Aviation
RSS News Feed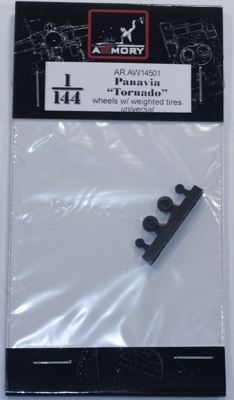 Armory 1/144 Panavia "Tornado" Wheels
One item Armory does really well is with aftermarket wheels and tires.  They tend to release these for kits that don't have a lot of aftermarket released for, including in 1/144 scale. This time around they have released a set of wheels with weighted tires for 1/144 Panavia Tornado kits.
Since they're labeled as "universal" that means you can use them on either the Dragon or Revell kits. The only thing you'll need to be aware of is that you may have to drill the hole a different size based on the kit you're using these with, so they mount on the kits' landing gear legs.
These are really well done and if you want better looking wheels and tires for your 1/144 Panavia Tornado then these wheels and tires are what you should track down. Many thanks are sent to Armory for sending these in for review.