Internet Modeler : New Releases : Aviation
RSS News Feed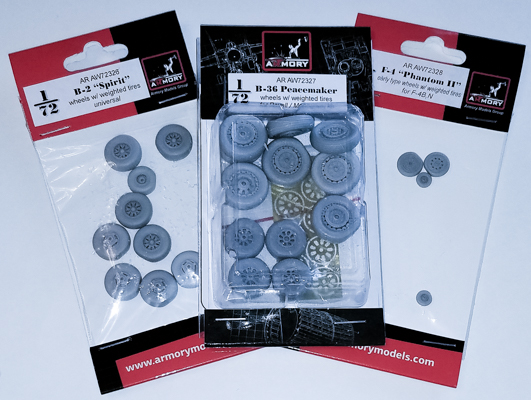 Armory 1/72 Wheels
There are a few aftermarket manufacturers out there that have created resin replacement wheels for various aicraft models. Armory is one of them and you can be assured of high quality when dealing with this manufacturer. One nice aspect to Armory's wheels is usually you can purchase them with either "weighted" or "unweighted" tires, meaning that you can display your model with the tires "bulged", like they're not inflated correctly or under heavy wait - or not. Being able to choose is a nice aspect.
Here are the wheels/tires under review this time:
| | |
| --- | --- |
| AR AW72326 B-2A "Spirit": These are weighted tires and are universal, meaning they can be used with either the venerable Italeri kit, or better yet, the new Modelcollect release. | |
| AR AW72327 B-36 "Peacemaker": These too are weighted and while yes, you receive all wheels/tires for the behemoth Monogram kit, you also receive photoetch "rims" that are added as well. | |
| AR AW 72328 F-4 "Phantom II" early for F-4B/N: Again, not meant for any specific kit. | |
All in all, these are excellent replacement wheels and if you're searching for new wheels for these specific kits, by all means pick these up. You'll be glad you did.
I definitely thank Armory for sending these in for review.