Internet Modeler : New Releases : Aviation
RSS News Feed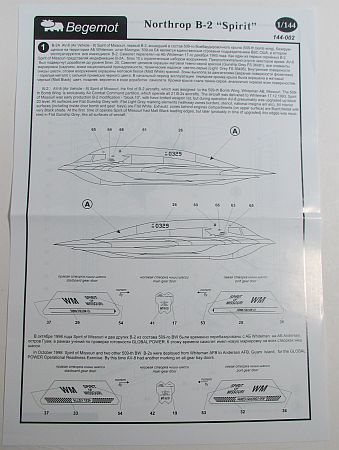 Begemot 1/144 Northrop B-2 "Spirit"
While the Revell 1/144 Northrop B-2 is an "older" kit, with raised details, it still is pretty accurate. I have seen large pictures of the B-2, though, where you can't make out any panel lines (aside from the control surfaces, naturally) so I don't consider it a huge loss to either have the details raised, or non-existant at all. However, one area that is most obvious from all photos are the walk-ways. You might not have all the panel lines raised/engraved or not there, but to not have the walk-way lines is a most egregious error. This is one area Begemot comes through with this release. In addition, the markings that come with the Revell kit are for the older style, almost prototypical markings, and not the current "Spirit Of..." that would be more apt for current Spirits.
The following "Spirits" are catered for on this sheet:
Spirit of Alaska
Spirit of Missouri (with two possible finishes)
Spirit of New York
Spirit of Pennsylvania
Spirit of Washington
Not only do you receive the specific markings for each "Spirit", but also contained on the sheet are the walk-ways (as previously mentioned) as well as stencils. In fact, you will spend more time decaling the Revell B-2 than you will actually building it.
The decals are printed to Begemot's high quality and are not to be missed. If, like me, you have a Revell 1/144 B-2 sitting around waiting for proper decals, wait no more and buy this sheet (although I would have personally liked to see "Spirit of Nebraska", but better to have these than none at all).
Many, many thanks to Begemot for not only producing this much needed sheet, but also for sending it to review.