Internet Modeler : New Releases : Aviation
RSS News Feed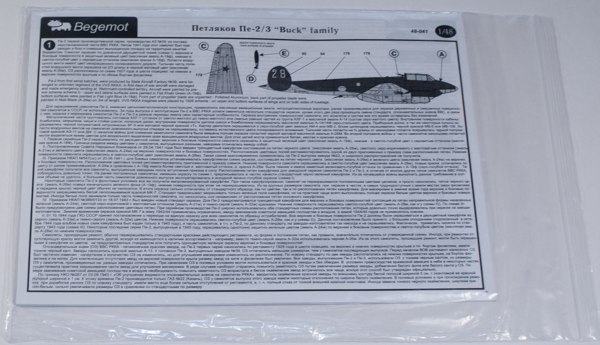 Begemot 1/48 Petlyakov Pe-2/3 (Buck) Family Decals
When Zvezda announced their 1/48 Petlyakov Pe-2 I was, admittedly, jealous. We have yet to see a decent release of this aircraft in 1/72, the best so far being that from Hobby Boss, and it has its faults. Be that as it may, it's still great that Zvezda saw a need for a definitive version of this important Great Patriotic War aircraft and brought it to market in 1/48.
After the release of the Zvezda kit it wasn't too long until aftermarket companies started producing items for it, this time Begemot jumps into the fray with a staggering decal sheet. Staggering because there are over 100 separate aircraft, with decals provided for all of them. Yes, you read that right. Over one-hundred aircraft are catered for in this release. There are decals for the following countries:
Soviet Union (naturally)
Finnish
Luftwaffe
Polish
Yugoslav
Czechoslovak
Bulgarian
So if the kit markings aren't to your liking, there's no doubt you'll find something interesting with this release. Plus, if you truly fancy the Pe-2/3 then you have the opportunity to build over 100 models with just this set of decals. Did I mention this was staggering?
Huge thanks to Begemot for sending this set to review.