Internet Modeler : New Releases : Aviation
RSS News Feed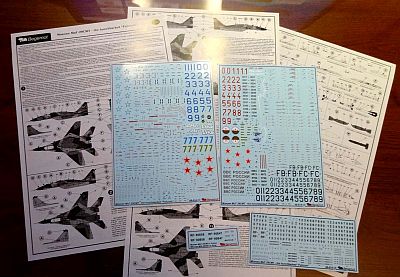 Begemot 1/48 Scale MiG-29 SMT Fulcrum Decals
The MiG-29 SMT Fulcrum is a more modernized version of the standard MiG-29 Fulcrum. The SMT version has a greater flight range and is designed to handle a wider range of Russian armaments.
If you have a MiG-29 kit in quarter scale, this is a must-get decal set. First the decal sheets are printed very clean and sharp with very little carrier access. Colors are bright and no indications of off-registry to decals.
Decal sheets include options for thirteen (13) aircraft from the Russian and Algerian Air Forces. There is a small bonus sheet for a MiG-29 SMT in Syrian conflict deployment.With some basic research, a modeler may have the basics in this decal set for far more marking options.
Painting guidelines are suggested for the thirteen options, colors are called-out, but no particular brand of paint manufacturer is referenced.
Included with the set is an instruction sheet to show locations of panel stencils, which are numerous and extensive. Now, what model wouldn't be completed without decals for bombs and missiles, well, there is a sheet that has stencil locations for fuel tanks; bombs; missiles, both AA and AGM; rocket pods and launch rails. Also included is a painting guide for the twin rudders on the MiG-29 SMT Fulcrum prototype flown at the Dubai Air Show, November 2005.
Overall impressions are excellent for this decal set. If you are in need of spicing up an old Soviet 1/48 MiG-29 Fulcrum kit, I would highly encourage you to seek out this deal set and add it to your stash. Guess, I'll have to find a MiG-29 kit now.
We definitely thank Begemot for sending the review set of decals.