Internet Modeler : New Releases : Aviation
RSS News Feed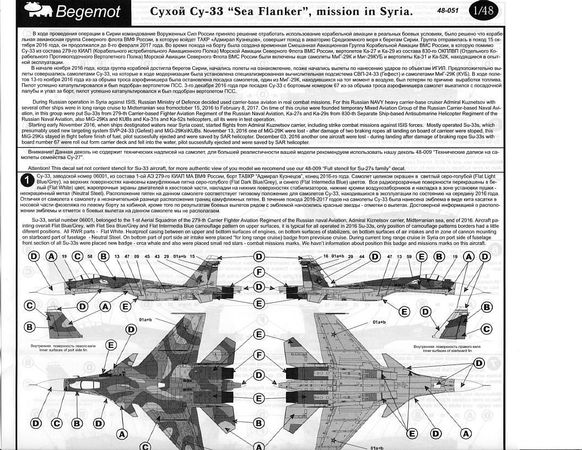 Begemot 1/48 Sukhoi Su-33 "Sea Flanker", Mission in Syria
Begemot, the Russian decal company continues its coverage of Russian aircraft in the Syrian campaign with a new sheet focusing on the Su-33s that deployed to Syria on the Admiral Kuznetsov.  The Russian Navy heavy carrier-base cruiser deployed from October 15, 2016 to February 8, 2017 conducting combat operations off the Syrian coast for over two months.  During that time, the Russian navy conducted 420 sorties striking 1,252 hostile targets. At one point eight Su-33s were deployed ashore.
Begemot's decal sheet is another comprehensive masterpiece with ten Su-33s depicted. I find ten aircraft confusing.  My reference says there were 6-8 Su-33s onboard and commercial satellite image shows eight Su-33s on the ground in Syria.  So why does Begemot have marking for 10? I would bet they have better references than I do! Two Su-33s on Begemot's - numbers 67 and 85 are listed as lost during the cruise.  Is that the difference between eight and ten?
As always, it's a great sheet, loaded with information and beautiful decals.  Which jets crashed, why the Orca symbol, and how many mission stars to put on which aircraft.  They don't have all the information and they tell you that too.  They note differences in camouflage etc.  It's a smaller single sheet and there are no stencils.  You'll have to depend on the kit decals or their earlier sheet for stencils.  All these Su-33s were upgraded with some new avionics giving the jet a better bombing capability so plan on the newer camouflage colors.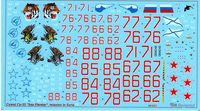 There's no discussion of war load for these veterans of the Syrian conflict, and Begemot provides no markings for weapons.  Google is some help.  It would seem a combat load for a Su-33 in Syria was two FAB500 dumb bombs loaded down the centerline tunnel.  A lot of the photos of Su-33s on deck had two AA-10As and two AA-11s.  A few had no missiles.  A couple had ECM on the wingtips, but most did not.  Now we are only talking about eight aircraft so there can't be that many combinations.
However you want to arm up your Sea Flanker for its sortie over Syria, Begemot has given you another fabulous decal sheet to mark it up. Every jet with every specific marking for their Syrian deployment.  I'm inspired to build-are you?
A definite "thank you" to Begemot for the review sample.