Internet Modeler : New Releases : Aviation
RSS News Feed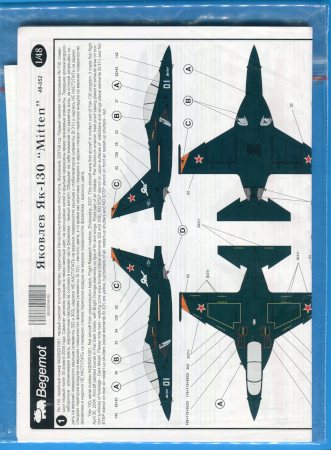 Begemot 1/48 Yak-130 Decals
Begemot has introduced a 1/48th scale version of their Yak-130 decal sheet, reviewed here earlier in 1/72nd scale. It includes marking options for 23 different aircraft in service in Russia, Belarus, Algeria, Laos, Bangladesh and Myanmar. The markings are spread across 4 high quality sheets. The colors are bright and bold, the printing is crisp and everything is in register. One of these sheets is devoted to air frame stencils, plus the canopy detonation cords in 3 different cords are provided on another.
The instructions include color profiles for all 23 options and a complete stencil application guide.
This is a first class presentation. The Yak-130 is a diminutive and graceful aircraft and it's nice to see decals devoted to so many colorful examples. If your eyesight is failing or you simply prefer larger models you can't go wrong with Begemot's new decals. I recommend them and I thank Begemot for the review samples.