Internet Modeler : New Releases : Aviation
RSS News Feed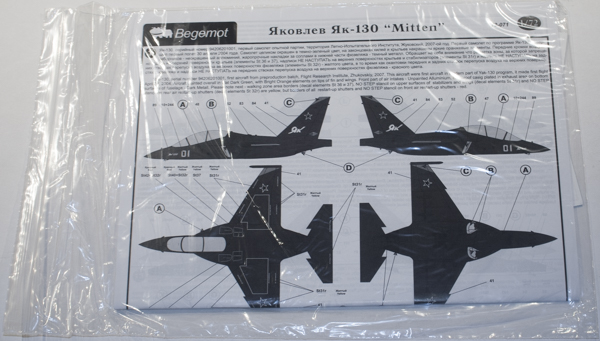 Begemot 1/72 Yakovlev Yak-130 Decals
Begemot is well known for providing decals for a lot of subjects, especially when it comes to Eastern Europe and Russia, etc. With the release of Zvezda's 1/72 Yak-130 there was no doubt Begemot would release decals for that kit.
And they have! This release contains not only plenty of Russian examples but other countries as well. Myanmar, Algeria, Belarus and Bangladesh are covered, as are Yakovlev prototypes and demonstrators. All totaled there are 24 aircraft you can model from this one set of decals via the profiles. However, given that Begemot has provided more nose number decals and serial number decals, you're only limited to what information you can find on a specific aircraft. In addition, Begemot provides the canopy detonation cords for the canopy in three different colors, so you don't have to worry about painting these by hand. Decals are to the usual high quality one associates with Begemot.
In this set you also receive airframe stencil decals along with weapon stencils. So you will be able to truly make your 1/72 Yak-130 look outstanding. From what I've read on-line, the Zvezda kit goes together very well which can be enhanced by applying Begemot decals to the finished model.
I definitely thank Begemot for sending this set of decals to review.