Internet Modeler : New Releases : Aviation
RSS News Feed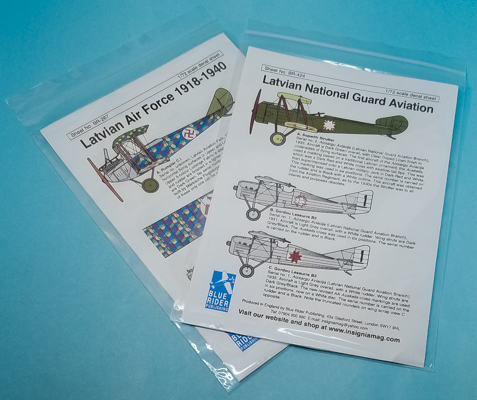 Blue Rider Publishing 1/72 Early Latvian Aviation Decals
History
From Wikipedia:
"The Latvian Air Force was first founded during the Latvian War of Independence. On 7 June 1919 an Air Group was formed, commanded by Lt. Alfrēds Valleika. The first aircraft were former Bolshevik Nieuport 24bis and Sopwith 1½ Strutter, both seized from German forces. They first flew on 5 August 1919, and accomplished the first bombing mission on 26 August 1919. From September the air force had three aircraft, and took part in fighting against the Germans and White Russians. Another 7–8 aircraft were seized and repaired after defeating of Russo-German forces, and 7 Sopwith Camels and 3 Sopwith 1½ Strutters were received from the British in December 1919. The Latvian air force flew 69 missions during the war of independence. In the years to follow many more aircraft were added to the inventory and the Air Group was eventually renamed the Aviation Regiment in 1926. An interesting feat of the Latvian naval aviation was a 6000-km trip to England and back, by three Fairey Seal floatplanes, in 1936.
"In 1939, the Aviation Regiment consisted of three fighter squadrons, armed with 24 Gloster Gladiator and 6 Bristol Bulldog (a fourth squadron was in organization), three reconnaissance squadrons, armed with up to 12 Letov Š-16LS, 2 Hawker Hind and 10 Stampe SV.5, and a naval reconnaissance squadron with 4 Fairey Seal and two other planes. The Soviet occupation in 1940 ended the activities of the Air Force. At that time there were almost 130 aircraft in service."
The Decals
Blue Rider Publishing has two decal sheets dedicated to early Latvian aviation. The first, BR-267 Latvian Air Force 1918-1940, contains markings for six different aircraft:
Rumpler C.I, mainly finished in German five-color lozenge
Junkers Cl.I, finished overall in natural metal
DFW C.V, left "natural" (wood fuselage and Clear Doped Linen flying surfaces)
Ansaldo A.1 Balilla (there are three distinct, different aircraft: the first left "natural", and the other two finished in Dark Green on the fuselage and upper flying surfaces, with Clear Doped Linen on the underside of the flying surfaces and fin/rudder)
de Havilland DH.9A (overall light gray)
Hawker Hind (Dark Green on upper surfaces with aluminum doped lower surfaces)
The second sheet, BR-424 Latvian National Guard Aviation, contains markings for three aircraft:
Sopwith Strutter, finished with Dark Green overall and upper flying surfaces with Clear Doped Linen underside flying surfaces
Gordou Leseurre B3, finished overall in light gray and with two ways to mark the same aircraft
DFS Schulgleiter SG-38 which had its fuselage left natural wood with Clear Doped Linen flying surfaces
Decals are very nicely printed and appear in register. I've used Blue Rider decals in the past and never had an issue with them.
1/72 models do exist for all, but some will take some tracking down:
Rumpler C.I: resins from AirMO and Choroszy Modelbud; vacuum-formed from Joystick Models
Junkers Cl.I: injected plastic from Pegasus, now Freightdog Models
DFW C.V: resins from Ardpol, Lüdemann-Modellbau and 

Skybirds '86; vac from Classic Plane and Sierra Scale Models

Ansaldo A.1 Balilla: injected plastic from Hit Kit; resins from Karaya and 

TC Toy Craft Berg; vac from Joystick Models

de Havilland DH.9a: injected plastic from Maquette and Merlin Models; resin from CMR; vac from Classic Plane

Hawker Hind: injected plastic from AZ Model, Frog, Kora Models and Merlin Models

Sopwith Strutter (2-seat): injected plastic from Toko/Eastern Express, Flashback, Merlin Models and Pegasus/Freightdog Models; resin from CMR; vac from Airframe and Classic Plane

Gordou Leseurre B3: resin from Omega Models

DFS Schulgleiter SG-38: plastic injected from AZ Models and Special Hobby

As I typed, some of these kits are easier to find than others, but "where there's a will, there's a way" (and an eBay).
If early Latvian aviation interests you, then you definitely want these decals.
I definitely thank Blue Rider Publishing for sending these decals to review.