Internet Modeler : New Releases : Aviation
RSS News Feed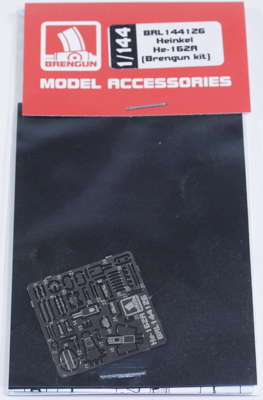 Brengun 1/144 Brengun He-162 Photoetch
Normally Brengun releases a photoetch set for their own kits not long after the kit has appeared on the market. This is definitely true for their own 1/144 He-162 model. It's an excellent set and will make the really nice Brengun Salamander look even better.
First of all what needs to be accomplished is the removal of the interior detail along with the molded-on gun sight and then actual photoetch parts construction can continue. There are plenty of parts that need to be built-up, mainly by folding, but those parts include the central panel with the control stick and pieces the nose-gear slots into. Each cockpit side-panel also needs to be folded prior to addition and the seat itself consists of three parts that need to be bent and folded prior to adding the separate seat belts. Finally, the instrument panel also needs to be folded and glued to the separate, forward cockpit coaming while also adding three other smaller pieces.
For the exterior Brengun includes replacement nose-gear doors, a replacement oleo scissor for the nose gear along with a new antennas for the fuselage and trim-tabs for the tail flying surfaces.
If you do decide to detail your Brengun He-162 with this photoetch set then you may also want to pick up Brengun's replacement, vacuum-formed canopies to show off all that great interior detail. This is a very nice set but you need to be aware there are a lot of small parts.
Huge thanks to Brengun for sending the review photoetch.