Internet Modeler : New Releases : Aviation
RSS News Feed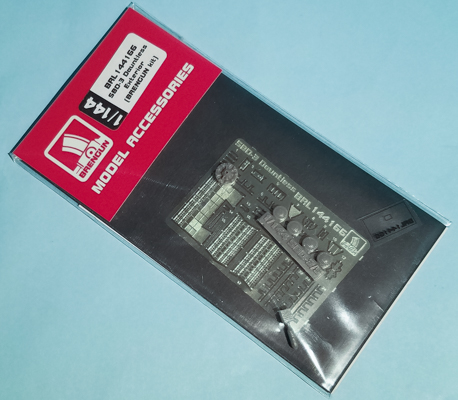 Brengun 1/144 Brengun SBD-3 Dauntless Exterior
Overview
It is usually an inevitability that Brengun will release aftermarket for their own kits. Which to me, isn't a problem. That way if you want to build one of their kits out of the box, you can do so less expensively than if all the aftermarket was already included in the box. So it's no surprise they have released a set for their 1/144 SBD Dauntless.
The Resin
The Brengun 1/144 SBD-3 Dauntless Exterior consists of a fret of photoetch, a piece of clear film - for the underside window - and resin replacement items. The resin items include a new engine, a single bomb and two wheels/tires. The photoetch fret includes wiring for the engine; items for the landing gear wells and replacement doors; replacement bomb racks for under the wings; fins for the resin bomb; and a full complement of perforated dive flaps; etc.
There is some surgery needed for the flaps but once added will look really nice. There is also plenty of work to get these flaps folded and separate parts added so take your time and you'll be rewarded with a nice looking set of deployed flaps.
Huge thanks Brengun for supplying this set to review. No doubt they're planning on an interior set along with - hopefully - vacuum-formed, replacement canopies.