Internet Modeler : New Releases : Aviation
RSS News Feed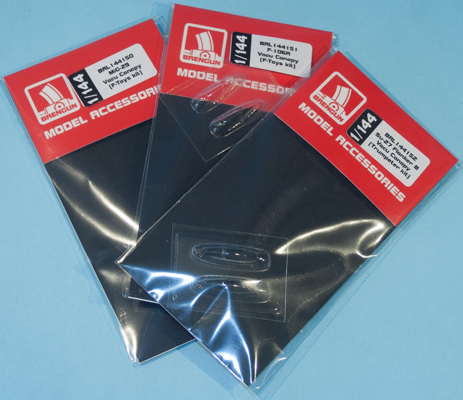 Brengun 1/144 Canopies
A friend and I were lamenting how the 1/72 world of vaccuum-formed, replacement canopies has all but dried up. There is Falcon, but they're no longer creating new content, and Rob Taurus that creates very few new canopies at a time. For the most part, though, there is nobody creating new, replacement canopies in 1/72.
But that's definitely not the case in 1/144. Thankfully Brengun has been fulfilling that role, and doing it to a high degree. It's not often you don't see a list from Brengun of upcoming, new releases from them that doesn't include new, replacement canopies. They have a plethora of canopies in their catalog and we can add the following three to that.
| | |
| --- | --- |
| BRL144150 - MiG-29 (F-Toys) | |
| BRL144151 - F-106 (F-Toys and Platz) | |
| BRL144152 - Su-27 (Trumpeter) | |
Each canopy "set" comes with two canopies, one that can be used for a closed cockpit, and the other where there's separation in the mold between the windscreen and the canopy, so the canopy can be displayed open.
If either of these are on your workbench - past or present - and you want a clearer view into the cockipt, then by all means pick them up. You will not be disappointed.
I definitely thank Brengun for the review canopies.