Internet Modeler : New Releases : Aviation
RSS News Feed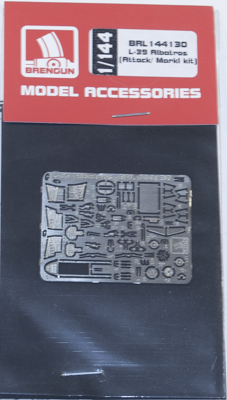 Brengun 1/144 Mark I L-39 Albatros Photoetch
Some time ago, Attack released a 1/144 plastic injected kit of the L-39 Albatros. Mark I has acquired those molds and has re-released that kit a few times and I have actually written a First Look on one of those boxings. Now, Brengun has released this photoetch set to enhance that kit.
This set consists of a lot of items for the cockpit including instrument panels; fold-up sidewalls; seat belts for both seats; fold-up rudder pedals; and fold-up control sticks. Before adding some of these parts you'll need to follow the instructions and provide a little bit of kit surgery, mostly on the floor and seats.
For the exterior Brengun provides both pilot steps; a new sill for the cockpit; intake and exhaust covers; replacement, main landing gear doors; hubs and brakes for the main wheels; a replacement exhaust can; replacement fins for the external fuel tanks; and many antenna, static probes and other bits and bobs for the exterior of the model.
So if you're looking to enhance your 1/144 Mark I L-39 then by all means pick up this set.
Many thanks to Brengun for sending this review set.