Internet Modeler : New Releases : Aviation
RSS News Feed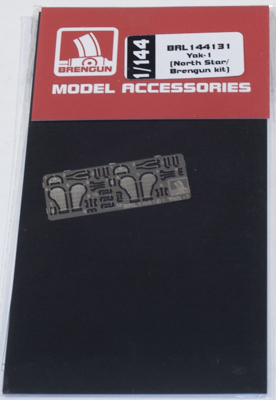 Brengun 1/144 North Star/Brengun Yak-1 Photoetch
When North Star released their 1/144 Yak-1s (and Brengun re-released the kit with different decals) there was a little excitement in the 1/144 modeling world. We finally received a very nice kit of this important GPW VVS fighter. While it is a modeler's kit it's still very nice and needs very little since there was a lot that came with the kit, including a photoetch fret. On the kit-supplied fret you'll find such things as the main landing gear doors, "linkages" for the landing gear, a "handle" for the cockpit, and the support for the gun sight. In my initial review of the North Star kit I complained about them providing a photoetch fret without providing seat belts. Well, this new release from Brengun alleviates that.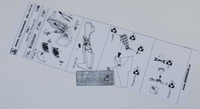 This set is a direct complement to the kit's photoetch in providing parts that don't exist on the kit's photoetch fret. Items included are a new instrument panel, belts for the seat, one piece for the port cockpit sidewall, interior pieces for the landing gear wells and finally the oleo scissors for the main landing gear.
If having extra detail for your 1/144 Yak-1 is important than you'll want to pick up this set from Brengun that supplies the missing pieces.
Many thanks to Brengun for sending this photoetch set to review.