Internet Modeler : New Releases : Aviation
RSS News Feed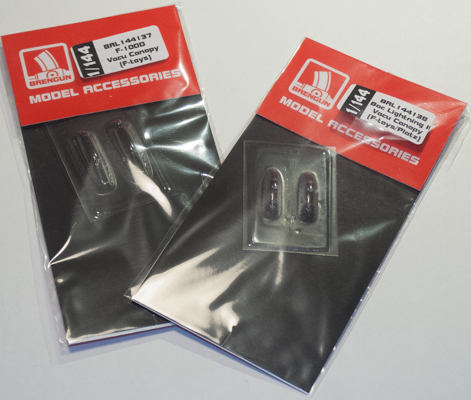 Brengun 1/144 Vacuum Formed Canopies
One thing is certain, kit-supplied, injected plastic canopies can be thick, some of them thicker than others. That's where Brengun comes in, releasing a number of vacuum-formed canopies to replace the most likely, too-thick kit canopy. This time around they release canopies for F-Toys/Platz gashapon and/or kits.
| | |
| --- | --- |
| BRL144137 F-100D (F-Toys) - Meant for the "gashapon" F-Toys release since Platz hasn't re-released this as a straight kit, yet | |
| BRL144138 BAC Lightning II (F-Toys/Platz) - Platz has re-released this F-Toys "gashapon" as a straight kit, so whether your replacing the canopy from the F-Toys or Platz release it should work on either | |
Both releases come with two vac canopies: one you can keep closed, the other easily opened if you really want to show your interior detail.
Since F-Toys - and Platz, since it's the same plastic - are notorius for large mounting tabs on their "kits", these are welcome replacements. It just means you'll need to fill in the plastic where those large mounting tabs are to go, but something that's definitely not a problem. Especially when it means you'll be able to see into the kit's cockpit better.
I definitely thank Brengun for sending these to review.