Internet Modeler : New Releases : Aviation
RSS News Feed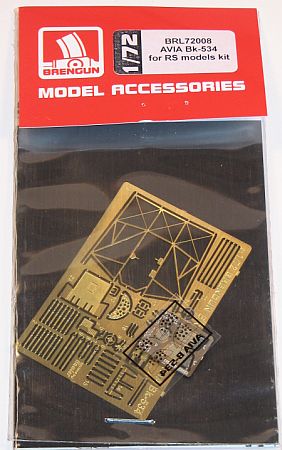 Brengun 1/72 Avia Bk-534 Photoetch
While Brengun has released photoetch in the past, those sets have not been for specific aircraft but more in line of "generic" sets.  For example, some of their first releases were photoetch aircraft seats in 1/144 scale (which includes belts).  Recently, though, Brengun has ventured into sets for specific aircraft, with these first sets for the RS Models 1/72 Avia B-534 series.
This photoetch set for the RS Models 1/72 Avia Bk-534 is extremely nicely done.  There are 48 pieces on the brass fret, another 3 pieces on photetch nickel, and clear "foils" for the instrument panel (there are four foils, for different versions of the B-534, so follow the directions closely for the correct "foil").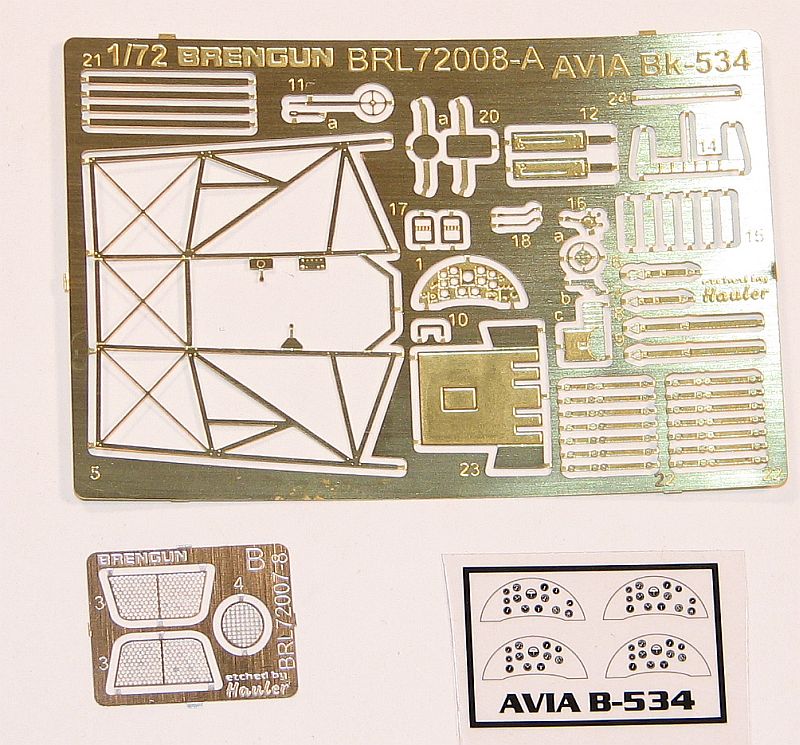 The main cockpit part is a fold-up affair that creates the cockpit sides and area behind the seat (which means you'll need to remove the molded-in side-cockpit detail).  You then fold the sides of the floor before sliding it to the front of the main fold-up cockpit.  There are photoetch seat belts for the kit seat with the shoulder harnesses attaching to the folded-up cockpit.
There is what looks like a trigger for the control column; rudder pedals; more bits and pieces to add to the folded-up cockpit sides; instrument panel (with specific, clear "foil" providing the instruments); gun sight that attaches to the area under the windscreen; "mesh" for the radiator, as well as "vanes" for in front of the radiator; replacement struts for under the horizontal tail parts (although those might be better using thinner plastic rod); replacement cockpit step; and finally, sway bars for the weapon pylons under the wings (which need to be rolled and folded).
All-in-all a most comprehensive set!  Since I feel the RS Models Avia B-534 cockpits are a little baren, the Brengun photoetch set is a very nice addition and - I feel - a must for these kits (especially the early B-534 series without an enclosed canopy).  This is very nicely done and I hope to see more aircraft-specific photoetch from Brengun in the future.
Many, many thanks to Brengun for sending this photoetch set for review.  I will be building the 1/72 RS Models Avia Bk-534 using this set in the very near future.