Internet Modeler : New Releases : Aviation
RSS News Feed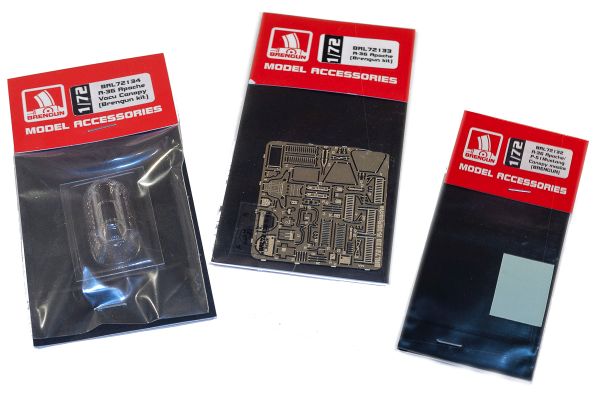 Brengun 1/72 Brengun A-36 Aftermarket
Some time ago, Brengun released a 1/72 A-36. I won't go into details on what's right and what's wrong with this kit, leaving it for readers to do a search for themselves. Regardless of what you think of the kit as far as accuracy goes, it isn't a bad model. Just has a few issues.
Be that as it may, Brengun has released a set of masks, a photetech set and a vac canopy for the kit.
BRL72132: The masks are not only for the clear, canopy parts, but there are also masks for the wheels (paint them first, apply the masks then paint the tires) and staboard-side landing light since that too is a piece of clear plastic.
BRL72133: The photoetch set contains parts for the entire model, inside and outside. For the inside Brengun provides a replacement instrument panel and rudder pedals; fold-up seat with seat belts and bulkhead behind the seat; and multiple items for the side wall. There are also boxes to be placed near the clear canopy at the rear and a gun sight for the windscreen.

For the exterior you receive replacement oleo struts and brake lines for the main landing gear; replacement dive brakes for both the upper- and under-side of the wings; items for the "exhaust channel" in front of the tail wheel; and replacement tailwheel gear doors.

BRL72134: Vacuum formed canopy, only one provided.
All of these are excellent releases to complement the Brengun 1/72 A-36.
Plenty of thanks are given to Brengun for these review samples.