Internet Modeler : New Releases : Aviation
RSS News Feed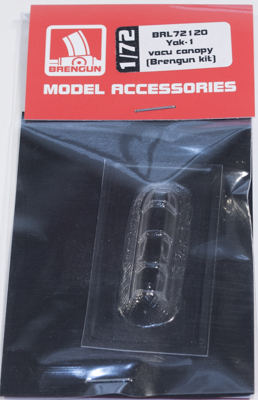 Brengun 1/72 Brengun Yak-1 Vacu Canopy
It's great seeing replacement pieces that enhance a model. Since most injected plastic canopies are thick for the scale, having a vacuum-formed replacement is nice, especially when you want to show off work done to a cockpit.
This time Brengun turns their attention to their own 1/72 Yak-1 series and they've formed the clear pieces with enough separation that you can easily cut the pieces so the canopy can be shown open. This relese is for both the early and late Yak-1 since the rear area of the clear pieces were different.
Many thanks are sent to Brengun for sending this in for review.