Internet Modeler : New Releases : Aviation
RSS News Feed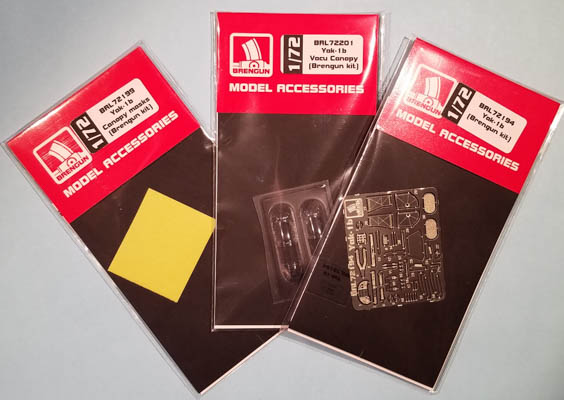 Brengun 1/72 Brengun Yak-1b Aftermarket
Brengun is not only known for their aftermarket, but also for their kits. Some time ago they released a new-tool, 1/72 Yak-1b and it's a nice kit. Now they have released three aftermarket items for that kit.
First is a set of masks. Not only masks for all clear parts, but also masks for the wheels.
Next is a set of vacuum-formed canopies. The set includes both a closed canopy as well as a separate windscreen and canopy so you can display the canopy open.
Finally, Brengun has released a photoetch set that includes pieces that aren't in the kit that I feel should be - like seat belts - but also includes much more. Brengun provides a photoetch-and-clear-film instrument panel; belts for the seat; intake and exhaust grills for the underside radiator; a replacement radiator flaps for that radiator; additional cockpit sidewalls and details for both sides; additional ribs for the main landing gear wheel wells; replacement main gear doors; and replacement tailwheel doors.
Depending on how much you want to add to your Brengun 1/72 Yak-1b is what will dictate what you pick up for your kit. At the very least I think you would want the masks to help speed up finishing your kit but adding the other two aftermarket items will definitely add more detail to your build.
I definitely thank Brengun for the review items.