Internet Modeler : New Releases : Aviation
RSS News Feed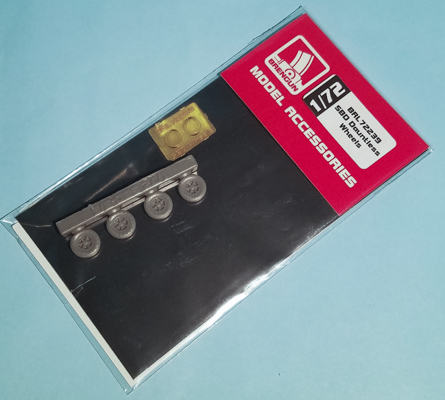 Brengun 1/72 SBD Dauntless Wheels
Overview
There are times when having a set of replacement wheels/tires is good, especially as molds age and slippage starts to happen between hold-halves, resulting in extra clean-up. Sometimes that clean up can be difficult on parts that are supposed to be "round". So in that instance, having a set of good replacement wheels/tires is a huge plus. Plus, add that most of the time the replacement tires are "buldged", giving it a look of having weight applied, looks more realistic.
The Resin
The Brengun 1/72 SBD Dauntless Wheels consists of two wheels/tires along with photoetch wheel covers. Some of the Dauntlesses flew with covers over the wheels so Brengun has supplied these as photoetch pieces, two per wheel. Check your references to see if the Dauntless you're building had these covers.
If you're building one of the 1/72 Dauntlesses and want replacement wheels/tires, then Brengun has what you want.
My thanks to Brengun for the items to review.