Internet Modeler : New Releases : Aviation
RSS News Feed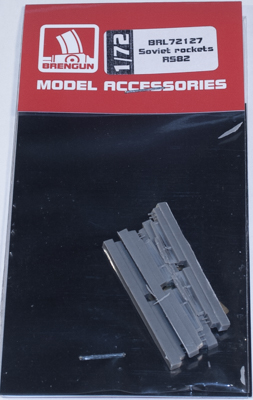 Brengun 1/72 Soviet Rockets RS82
When Brengun re-released their Yak-1 in "Winter" markings they included a set of RS-82 rockets to add to the finished model. I thought these were nicely molded, especially since the rocket and launching rail were molded together. Now Brengun has even made them better and released them separately.
For the stand-alone release Brengun has added photoetch fins which will really enhance the "too-scale" quality. Sure, that means more patience is needed to assemble them rather than just clean them up and stick them on, but they will look a lot better because of it.
Plus now you can use them on other VVS aircraft models besides the Yak-1, which is definitely a bonus.
I definitely want to thank Brengun for sending the review set.