Internet Modeler : New Releases : Aviation
RSS News Feed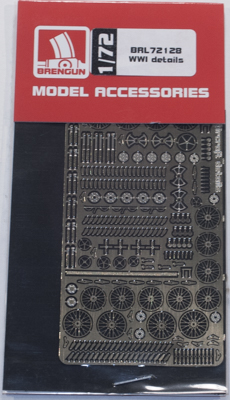 Brengun 1/72 WWI Aircraft Details
I've been a WWI aircraft modeler for a number of years. Throughout that time there have been ebbs and flows of items that help with the building of WWI aircraft models. In the 1/72 world, I've considered the past few years more of an ebb as it appears more and more companies aren't releasing new WWI aircraft modeling items. Thankfully Brengun has released this excellent set of photoetch. And the fret contains a lot of photoetch items to help build WWI aircraft models.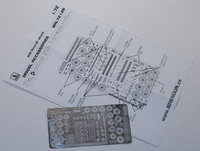 You receive a number of "spoked wheels" to be used with your own tires if you want to display your model without any covering on the wheels. There are a lot of rigging control horns for the control surfaces, all which contains a small "peg" which allows you to drill a small hole in the surface to apply the control horn, as well as a hole on the end to thread the rigging through. There are a number of different types of gun sights. For the cockpit you receive steering controls, throttles and plenty of seat belts. There is what appears to be a gun belt, if you want to display a drum with ammo. There are propellers for electric generators. You receive propeller hubs. There are cockpit steps in the set. There are also pitot tubes that can be attached to struts. There are also control wheels for those aircraft that used them to control some of the flying surfaces, like the Sopwith Strutter.
So, if you're still building WWI aircraft models that require aftermarket items, and to be honest, most do, then do yourself a favor and pick up this set. It will really help you finish your model.
My thanks to Brengun for the review set.