Internet Modeler : New Releases : Aviation
RSS News Feed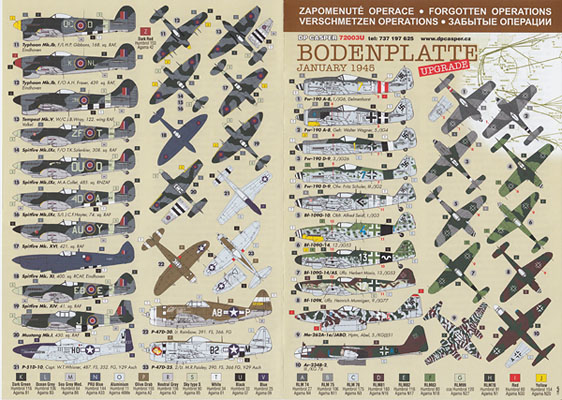 DP Casper Decals 1/72 Bodenplatte January 1945
Overview
The world of aftermarket decals is filled with a handful of well-known manufacturers and a much broader range of smaller producers. While it is easy to keep up with the few well-known companies, it is often the smaller manufacturers that produce some of the more interesting subject sheets. DP Casper Decals is just such a company. They are relatively unknown (I just came across them recently), but their decal sheets offer up some very interesting and impressive subjects. Unlike many aftermarket decal companies, DP Casper does not produce a sheet focusing on one aircraft. Instead, they have chosen specific points in history and created a comprehensive decal sheet around that event.
The Decal Sheet
This particular release (72003) covers the January 1945 Bodenplatte operation. That was the last offensive push by the Luftwaffe that caught the Allies unprepared. During the initial attack on airfields, the Allies lost over 300 aircraft. However, they were able to mount a defense and over 200 German aircraft (and more importantly, German pilots) did not make it back. While the Allies could easily make up the lost aircraft, the Germans could not make up the losses of aircrew, and the Luftwaffe was a shadow of its former self afterwards.
As can be seen in the instruction sheet, this decal set provides markings for Luftwaffe, RAF, and USAAF aircraft. There are 23 total aircraft presented here: ten Luftwaffe, ten British, and three American. Out of those aircraft, there are complete markings, including national insignia, for eleven aircraft. The remaining (five Luftwaffe, six RAF, and one USAAF) aircraft will need national insignia, which can be found in whatever kit you choose to build. So, what aircraft are there on this sheet? Well, starting with the Luftwaffe side, there are two Fw 190As, two Fw 190Ds, three Bf 109Gs, one Bf 109K, one Me 262A, and one Ar 234B. The RAF is represented by two Typhoons, one Tempest, six Spitfires, and one Mustang, while the USAAF has two P-47s and one P-51. Here's a more detailed breakdown: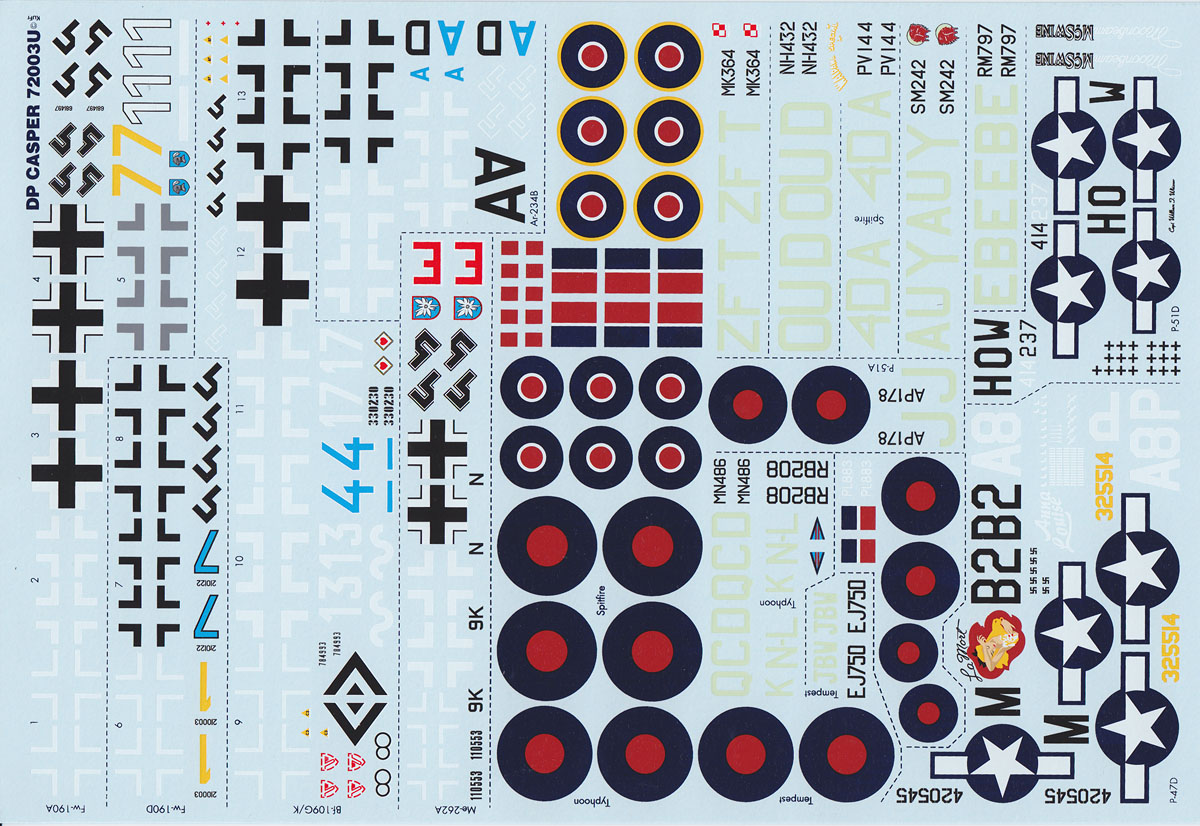 Fw 190A-8 from I./JG 6 coded Yellow 7, with red/white/red fuselage bands; Fw 190A-8 from 5./JG 4 coded White 11, flown by Gefr. Walter Wagner, with black/white/black bands.
Fw 190D-9 from 3./JG 26, Yellow 1, with black/white fuselage bands; Fw 190D-9 coded Blue 7, flown by Ofw. Frits Schuler from III./JG 2.
Bf 109G-10, Black 8, I./JG 3, flown by Oblt. Alfred Seidl; Bf 109G-14 coded Blue 4 from 12./JG 53 and Uffz. Herbert Maxis' Bf 109G-14/AS, coded White 13, both with black fuselage bands.
Bf 109K-4 coded White 17 from 9./JG 77 and flown by Uffz. Heinrich Munnigen.
Me 262A-1a/Jabo, coded 9K+EN, flown by Hptm. Abel from 5./KG(J) 51.
Ar 234B-2 from III./KG 76 coded ??+AD.
Typhoon Mk. Ib from 168 Squadron, QC-D, flown by F/L HP Gibbons; Typhoon Mk. Ib from 439 Squadron, KN-L, flown by F/O AH Fraser.
Tempest Mk. V from 122 Wing, JBW, flown by W/C JB Wray.
Spitfire Mk. IXc from 308 Squadron, ZF-T, flown by F/O TK Szlenkier; Spitfire Mk. IXc from 485 Squadron (RNZAF), OU-D, flown by MA Collet; Spitfire Mk. IXc from 74 Squadron, 4D-A, flown by S/L JCF Hayter; Spitfire Mk. XVI from 421 Squadron, AU-Y; Spitfire Mk. XI from 400 Squadron (RCAF); Spitfire Mk. XIV from 41 Squadron, EB-E.
Mustang Mk. I coded J, from 430 Squadron.
P-47D-20 from 391st FS, 366th FG, coded A8-P and flown by Lt. Rainbow; P-47D-25 from 390th FS, 366th FG, coded D2-M and flown by 2/Lt. MR Paisley.
P-51D-10 from 487th FS, 352nd FG, coded HO-W and flown by Capt. WT Whisner.
The decal quality is quite good, with good alignment, especially on some of the finer details. Attention to those details is impressive as well, with different shades of red for the Luftwaffe and RAF aircraft (something not often seen). The instructions provide clear callouts for colors, and those colors are cross-referenced to Humbrol and Agama paints. The only downside to the instructions is that there is only left side views of the aircraft, due to space restrictions. For most of the aircraft, the camouflages are factory standard, though, so model kit instructions will fill in the blanks there. Just remember that the fuselage codes on the British aircraft read the same on both sides.
Conclusion
Overall, this is a very impressive decal sheet, both in the amount of research and the quality of the decals themselves. Even if you just build a handful of aircraft from this set, you will have an excellent cross section of Bodenplatte participants. Priced at 180 CZK, this sheet is quite affordable as well: that works out to about fifty cents an aircraft given the current exchange rate. DP Casper Decals are carried by Hannants and Modelimex, and their line has quite a bit of breadth, covering both World War Two and modern times. My thanks to DP Casper for the review set.