Internet Modeler : New Releases : Aviation
RSS News Feed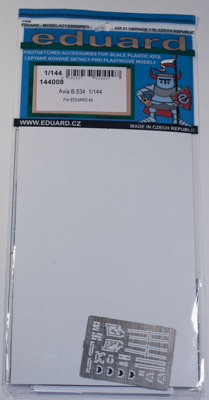 Eduard 1/144 Avia B.534 Photoetch
It was a little surprising when Eduard announced and released their 1/144 Avia B.534s. I guess it made sense in the long run since they have the 1/48 and 1/72 worlds covered with the type, so why not 1/144? The kits are first-rate and should build into excellent representation of this important Czech aircraft.
So, it was only natural that Eduard – whom are well known for their  photoetch parts – would release a photoetch set for their diminutive Avias (set #144 008). The set not only includes scale rigging (which will help a lot) but also includes belts for the seat; four different instrument panels (for each major type); sidewall detail for the cockpit; a headrest; a pilot's step; different additions to the tail wheel based on a specific aircraft type; an addition to the serie 4 canopy; and a gun sight.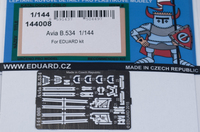 I do want to point out, though, I think there's an error in the instructions and I only say this because I'm currently working on their 1/72 Avias and using their photoetch rigging for those. The instructions show drilling only two holes in the lower wings, and those are at the wing-root. If their 1/72 kit is any indication you should also drill a hole near the interplane, forward-strut attachment point for that rigging to correctly be added. Other than that everything looks top-notch and should add a lot of excellent dimension to these excellent kits.
Huge thanks go to Eduard for providing the review photoetch set.