Internet Modeler : New Releases : Aviation
RSS News Feed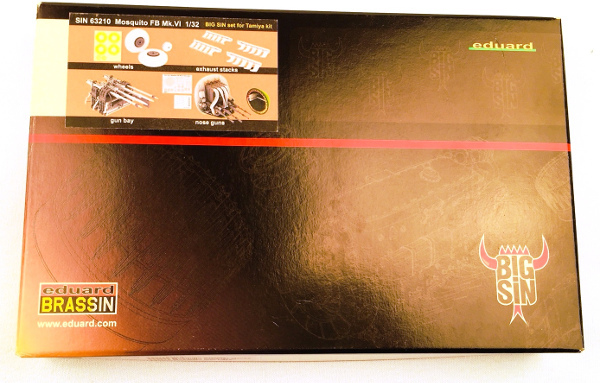 Eduard 1/32 Mosquito FB Mk.VI Big Sin
Overview
Tamiya's 1/32nd scale De Havilland Mosquito FB Mk.VI is a modeling "tour de force," one of the finest aircraft model kits ever produced. The detail contained within the kit is breathtaking. Yet even the best kits can be "improved upon", and who better to do this than Eduard, the detail masters from the Czech Republic!
The detail set under consideration is a "Big Sin" production, which means it takes a number of Eduard's resin and photo etch sets, and combines them into a sort of "combo" set, which costs substantially less than the sum of the sets included.
What's in the Box
Mosquito Mk.VI exhaust stacks (4 resin parts)
Mosquito Mk.VI wheels (7 resin parts)
Mosquito FB Mk.VI gun bay (31 resin parts)
Mosquito FB Mk.VI nose guns (29 resin parts, PE sheet, decals
The plastic parts in Tamiya's Mosquito kit are very well detailed for injection plastic parts. However, they come with various molding seams that need cleaning up.
The very process of cleaning up these seams can result in destroyed detail. There are also inherent limitations to injection molded plastic parts. The resin parts contained in this Eduard Big Sin set provide better molded detail than the equivalent Tamiya parts.
Eduard is also able to cast one larger part in resin, whereas Tamiya might require a dozen smaller parts to create what Eduard produced as a single unit. Take for instance, the main wheel tires: Eduard provide the main tires as one piece, and include the word "Dunlop" as raised detail. Tamiya on the other hand requires 14 parts to produce the tire, which lack the Dunlop lettering.
Likewise, the engine exhaust stacks: Tamiya requires five separate pipes to create each stack, while Eduard provides each stack as a single part. This saves time, as well as often providing more detail, Eduard vs Tamiya.
If you have gone to the expense of purchasing the Tamiya Mosquito kit in this large scale, why not spring for even more detail: buy picking up this superb resin and photo etched set from Eduard! Thanks to Eduard for providing Internet Modeler's readers the chance to view this first class product.