Internet Modeler : New Releases : Aviation
RSS News Feed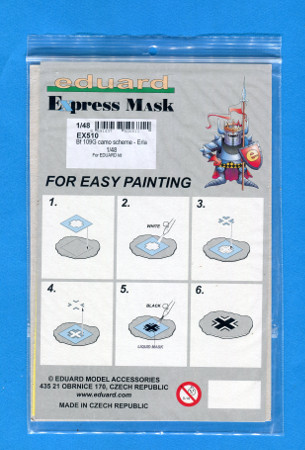 Eduard 1/48 Bf109G camo scheme masks-Erla
This new set of masks is for Erla built Messerschmitt Bf109G aircraft. There were several variations of the standard Erla camouflage pattern. This set, which is applicable to Eduard's Erla G-6 Weekend Edition kit, is notable for the following characteristics:
A high camouflage demarcation line between upper and lower surface colors, roughly parallel to the bottom of the canopy.
A "saw tooth" edge to the upper wing and tailplane camouflage patterns, which is typically associated with 109G reconnaissance aircraft.
A wavy wing leading edge color demarcation line, which carries the lower surface color up over the leading edge.
The standard mid War camouflage colors were RLM 74 Graugrün and 75 Grauviolett over 76 Lichtblau, with a mottling of 74/75/02 along the fuselage sides. The spinner was typically RLM 70 Dunklegrün and the fuselage crosses were filled with the darker upper surface color.
Later in the War RLM 83 Dunkelgrün replaced 74, RLM 75 was replaced by 81 Braunviolett, and RLM 84 Graugrün replaced 76, but THAT is a topic for another article, given the ad-hoc nature of late War Luftwaffe camouflage...
This set of masks is made of Eduard's customary rice paper tape. They will be easy to use, with the aid of Eduard's well illustrated instructions. Most mid and late War Bf109 camouflage patterns had soft demarcations between colors, so use of rolls of Blue Tak or Tamiya tape under the masks, close to the edge of each piece, to depict this soft edge. Hold your model at a 90 degree angle from your airbrush as you apply paint.
This a really cool set. Erla produced the G-6. G-6/AS, G-14, G-14/AS and G-10 variants and these masks are applicable to many, but by no means all, of them. I recommend that you use photographic references when possible, if you plan to depict a particular plane. The wavy wing leading edge, for example, was more prevalent on Erla aircraft than the saw tooth upper wing pattern. I recommend this set and I would like to thank Eduard for the review sample.
References
Bf109 Late versions, Camouflage & markings, Krzysztof W. Wołowski, MMP Books, 2010
Götterdämmerung: Luftwaffe Wrecks and Relics Number 1, Brett Green, Chevron Publishing Limited, 2006