Internet Modeler : New Releases : Aviation
RSS News Feed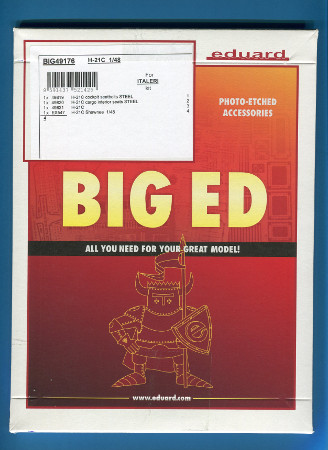 Eduard 1/48 H-21C Big Ed Photo Etch Set
This is Eduard's "Big Ed" suite of photo-etch enhancements for Italeri's new 1/48th scale Piasecki H-21C kit. It consists of 4 components:
49819 H-21C cockpit seat belts STEEL
49820 H-21C cargo interior seats STEEL
49821 H-21C
EX547 H-21C Shawnee
Set 49819 is 2 pairs of pre-painted seat belts. These will be easy to use with the aid of Eduard's well illustrated instructions.
Set 49820 is seat belts and "fabric" seat backs for 18 seats, 9 for each side of the cabin. It consists of 2 duplicate pre-painted PE frets. You will have to supply 2 plastic rods, to which you attach the seat backs. This is explained in the instructions.
Set 49821 is 2 PE frets, one of which is pre-painted. You get a total of 100 parts. The pre-painted fret is devoted to the interior. It includes items such as a new instrument panel, rudder pedals, radio faces, main instruments face and throttle quadrants, etc.
The standard fret provides numerous enhancements, including windshield wipers, external mirror, oleo scissors for the tail wheel, window trim rings, screens, various access hatches, doors and ports, etc. You get a large amount of detail for the entire airframe, and all of it is very impressive.
Finally, EX547 is a set of masks. It consists of 38 elements. The set includes masks for the windscreen, all forward glass panels, the fuselage windows and the main wheels.
Italeri's H-21C Shawnee "Flying Banana" kit has been well received. It is accurate and well detailed. It effectively renders the Aurora and Fonderie Miniatures kits obsolete (unless you're a masochist, in the case of the latter kit) and Eduard's photo-etch sets add an incredible amount of detail to a kit that is already highly detailed, right out of the box. I recommend this set and I would like to thank Eduard for the review sample.