Internet Modeler : New Releases : Aviation
RSS News Feed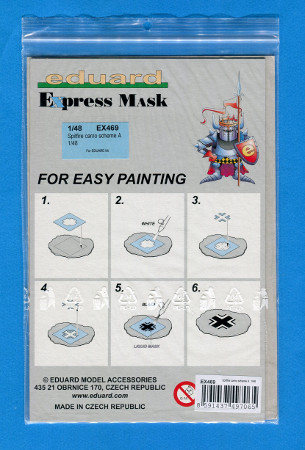 Eduard 1/48 Mask Set: Spitfire camo scheme A
The upper surfaces of early Supermarine Spitfires were finished in a two color disruptive camouflage. These patterns were known as the 'A' and 'B' schemes. The B scheme was a mirror image of the A. Aircraft with serial numbers ending in an even number were finished in scheme A and those with odd serial numbers were painted in scheme B. This was a general rule, so of course there were exceptions.
The upper surface colors were Dark Earth and Dark Green. The earliest Spitfires had aluminum painted lower surfaces. Later planes had their lower surfaces painted a 50/50 split of black and white. In June of 1940 the lower surfaces color became Sky. Sky was also referred to as "Duck Egg Blue" or "Duck Egg Green" and more than one shade of this color adorned Spitfire lower surfaces. In August of 1941 Medium Sea Grey became the lower surface color, to coincide with the new upper surface colors of Ocean Grey and Dark Green which were introduced to in September of that year.
This mask set is 1/48th scale and it is devoted to camouflage Scheme A. It consists of Eduard's customary rice paper masks on 2 sheets of backing paper. The masks are strictly for the aircraft upper surfaces. I think that the masks will be easy to use by following Eduard's well illustrated instructions.
Note that Spitfires were painted with the aid of rubber mats, which meant that the color demarcations were softly feathered rather than hard edged. You can simulate this by placing blobs of Blue Tack underneath the edges of each section, lifting it proud of the model's surface. Aim your airbrush at a 90 degree angle to the model upper surface, to prevent paint creeping under the masks.
I use any advantage I can find to help me finish models easily and rapidly. This mask set will help anyone to accurately depict Spitfire upper surface camouflage patterns. I recommend this set and I would like to thank Eduard for providing the review sample.
References
The Supermarine Spitfire: A Comprehensive Guide For The Modeller, Part 1: Merlin Powered, by Robert Humphreys, Modellers Datafile 3, SAM Publications, 2000