Internet Modeler : New Releases : Aviation
RSS News Feed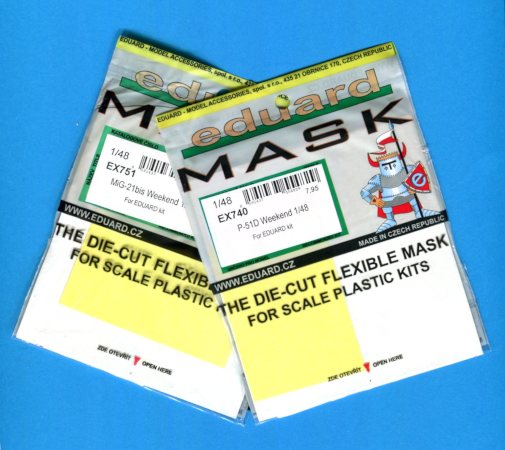 Eduard 1/48 Mask Sets
When Eduard releases new kits it doesn't take long for the accessories to follow them. I've always been a fan of Eduard's canopy masks. Some multi-engine bombers had large, multi-panel canopies that are a real pain to mask. I'm all for making onerous tasks as easy as possible. With this in mind let's take a look at mask sets for 2 of Eduard's new kits, the P-51D and MiG-21bis Weekend Editions.
EX740 is the set for the P-51D. The P-51D had a large prominent bubble top canopy and Eduard would have you mask the edges of the bubble top with thin strips of rice paper tape and fill in the center with liquid mask, which is a simple task. The windscreen isn't complex in shape so 3 masks shaped to fit cover it. Painting the wheels is a 2- step process: paint the hubs aluminum, mask them and then paint the wheels (if I read the instructions correctly).
EX751 is for the MiG-21bis. It's a little more ambitious, as it includes masks for the fin's distinctive green die-electric panels. You also get masks for the nose wheel and the main wheels. The canopy is masked just like the P-51: rice paper strips for the outermost canopy boundaries and liquid mask for the remainder. This should work very well, because the smaller rice paper strips are quite flexible, certainly more so than the larger pieces. I think this approach is sound.
So there you have it, 2 masks sets that will be easy to use and will save you some time to boot.
I recommend these mask sets and I would like to thank Eduard for the review sample.