Internet Modeler : New Releases : Aviation
RSS News Feed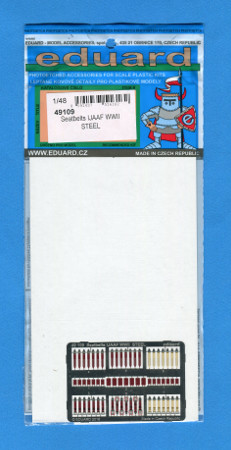 Eduard 1/48 Seatbelts IJAAF WWII STEEL
This interesting new set of seatbelts is for IJAAF (Imperial Japanese Army Air Force) fighters of World War Two. It consists of 21 pairs of belts, for Nakajima (leather or canvas belts) and Kawasaki (leather belts) aircraft. The Nakajima belts are for the Ki-43 and Ki-44 fighters, and the Kawasaki belts are suitable for the Ki-61 and Ki-100 planes. The belt parts are pre-painted and each pair consists of 3 photo-etch parts.
The belts are easy enough to use: cut the pieces off the fret with PE scissors, and then attach the belts to the airplane's seat with 5 minute epoxy or the super glue of your choice.
Hasegawa and Fine Molds produce very good kits of the Nakajima Ki-43 and Ki-44 fighters. RS, Tamiya and Hasegawa offer kits of the Kawasaki Ki-61 and Ki-100. Most of these kits are of recent vintage and have highly detailed cockpits, some of which just need a set of seatbelts to finish them off. You would have to be a VERY prolific modeler to use all of the belts in this set. It's a great addition to your next IJAAF Nakajima or Kawasaki fighter model. I recommend this photo-etch set and I would like to thank Eduard for the review sample.