Internet Modeler : New Releases : Aviation
RSS News Feed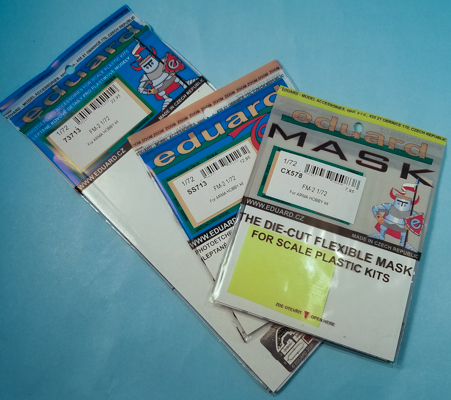 Eduard 1/72 Arma Hobby FM-2 Aftermarket
Overview
When Arma Hobby released their FM-2 the 1/72 modelers were joyous as as we finally have an accurate reproduction of that aircraft. If you bought their Expert Set then you had all you needed in that box. However, if you picked up any of their "plastic-only" releases, then that's all you have and you might need something more to finish your kit. That's where Eduard comes through.
The Photoetch
Naturally Eduard would release a mask set for the kit. Even though the Expert Set comes with its own set of masks, if you have just the plastic or one of the non-Expert Set releases, then you'll need a set of masks, and Eduard provides. Naturally you receive masks for the clear pieces and main tires, what you don't receive is something Arma provides with their masks: masks for the tail wheel. I'm really uncertain why Eduard left those off.
The next release from Eduard for the Arma Hobby 1/72 FM-2 is a Zoom set, primarily meant for the interior. With this set you receive a multi-part instrument panel (which requires sanding and scraping the kit's plastic instrument panel); seat belts for the kit seat; and multiple additions to various items in the cockpit, such as sidewalls, etc. However, be aware to add those items a lot of molded-in detail will need to be removed.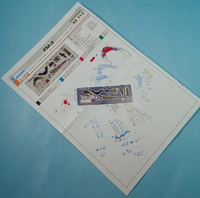 The final release from Eduard is a little more comprehensive. You do receive the Zoom fret that's outlined above, but you also receive more interior detailing, including replacement rudder pedals; "chain" for the inside of the wheel well; many additional items for the engine, including a wire harness; replacement tail bumper; replacement cranks for the stabilizer; a "prop boss" for behind the prop; new and complete replacement flaps (which will require a lot of patience to fold and glue togetheras well as requiring you to slice off small sections of the kit flapts to glue to the photoetch ones); and finally new, replacement main landing gear doors and ignition wiring for the rockets. Plenty to add interest to your FM-2 but, especially in regards to the photoetch flaps, will require a lot of patience and time.
Conclusion
If, like me, you bought an extra set of plastic parts when you bought your FM.2 then Eduard has the parts you need to enhance that kit. These sets will definitely enhance your Arma Hobby 1/72 FM-2.
My thanks to Eduard for the review set.