Internet Modeler : New Releases : Aviation
RSS News Feed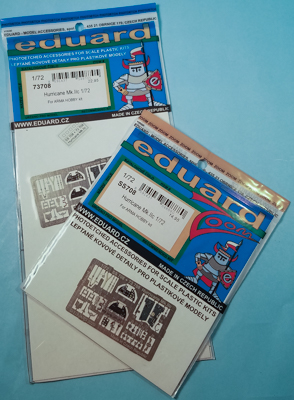 Eduard 1/72 Arma Hobby Hurricane Mk.IIc Aftermarket
Overview
When Arma Hobby released their Hurricane Mk.IIc the 1/72 was joyous as it's a very nice kit and builds into an accurate reproduction of that aircraft. If you bought their Expert Set then you had all you needed in that box. However, if you picked up any of their "plastic-only" releases, then that's all you have and you might need something more to finish your kit. That's where Eduard comes through.
The Photoetch
The first release from Eduard for the Arma Hobby 1/72 Hurricane Mk.IIc is a Zoom set, primarily meant for the interior. With this set you receive a multi-part instrument panel (which requires sanding and scraping the kit's plastic instrument panel); seat belts for the kit seat; replacement rudder pedals; replacement cockpit sidewalls; additions to both cockpit sidewalls; additions to the framing behind the seat; and additions to the gun sight.
The next release from Eduard is a little more comprehensive. You do receive the Zoom fret that's outlined above, but you also receive a new fold-up seat which includes additional parts; additions to the floorboard; brake lines for the main gear; additions and replacements for the underside radiator; additions for the landing light; a grill to add to the smaller intake; a rear view mirror for the windscreen; handles for the canopy; a replacement, fold-up antenna; a replacement pitot tube; and a linkage for the rudder's trim tab.
Conclusion
If, like me, you bought an extra set of plastic parts when you bought your Mk.IIc (or in my case, their newer Mk.IIb/IIc) then Eduard has the parts you need to enhance that kit. These sets will definitely enhance your Arma Hobby 1/72 Hurricane Mk.IIc.
My thanks to Eduard for the review set.