Internet Modeler : New Releases : Aviation
RSS News Feed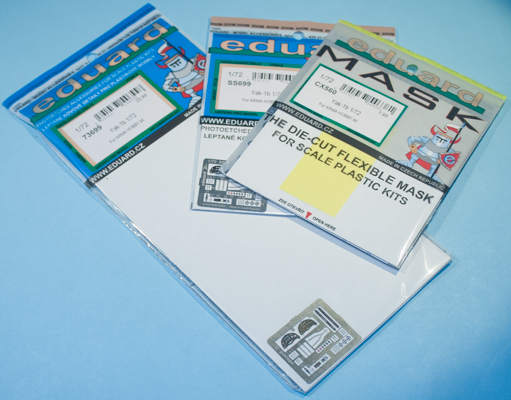 Eduard 1/72 Arma Hobby Yak-1b Aftermarket
Overview
When the Arma Hobby 1/72 Yak-1b was released, it was definitely welcomed in the 1/72 modeling world. Having a new-tool Yak-1b was something that was unheard of just a few years ago, and now we have the superlative Arma Hobby kit. Naturally, Eduard tends to be on top of things so here is there aftermarket for the kit.
Eduard 73699
This full-featured photoetch set contains two frets of brass, containing such items as: additional details for the cockpit sides; a replacement two-piece instrument panel (added after sanding down the kit's injected panel); seat belts; radiator faces; a fold-up underside exhaust channel outlet; multi-piece, lowered flaps; replacement landing gear doors; and replacement oleo scissors for the main landing gear. This is quite the full-featured set.
Eduard SS 699
This is the small photoetch fret contained in the above set, which is primarily just for the cockpit. It includes all the addition detail for the cockpit sides; the replacement, two-piece instrument panel; and finally seat belts. If you don't want all the extra exterior detail that comes with the full-featured photoetch set, then this Zoom set is what you want.
Eduard CX 560
Here are Eduard's masks for the Yak-1b. If you decided to pick up just the plastic parts (what Eduard calls "Overtrees") when the Yak-1b was first presented, then you'll definitely need masks for the kit. Yes, Arma Hobby does provide masks in their Expert edition of the kit but not in their Standard release nor if you just bought the sprues by themselves. So you will need masks for the kit and the Eduard ones will definitely work. Eduard provides not only clear-parts masks, but masks also for the main wheels/tires (but not the tailwheel).
Conclusion
If - like me - you picked up an extra set of sprue when the Yak-1b was in its pre-release stage (or bought the non-Expert kit), then you may want something to add to your Arma Hobby Yak-1b kit. Eduard definitely provides everything you need with these three sets.
My thanks to Eduard for sending these in for review.