Internet Modeler : New Releases : Aviation
RSS News Feed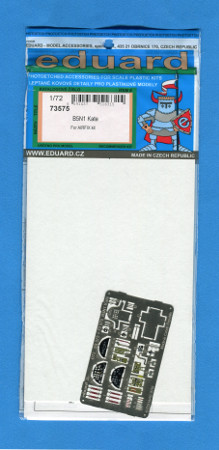 Eduard 1/72 B5N1 Kate Photo Etch
Unless you just crawled from under a rock, you're undoubtedly aware that Airfix has been slowly but steadily working their way through their catalogue, retooling kits that many modelers grew up building. If you build 1/72nd scale airplanes like I do, you may very well have acquired a whole shelf full of new Airfix kits.
Barring the odd hiccup (their 1/72nd Messerschmitt Bf109G-6, and "new" 1/48th Spitfire Mk.IX, anyone?) most of these new kits are really quite good. Their retooled Nakajima B5N1 Kate is no exception. It is well detailed and it is accurate in outline. But there are limits to what even the best injection molding technology can accomplish, and this is where Eduard steps in with a new photo etch set. It consists of 55 parts on 2 frets, one of which is mostly prepainted.
This is a very comprehensive set, with enhancements for the cockpit (seat belts, instrument panel, throttle quadrants, gun sight for the machine gun) and the air frame (new oleo scissors, landing gear doors, brake lines, D/F loop, spark plug wires).
The new Airfix Nakajima B5N1 kit is a great kit. It is well detailed right out of the box, and this great PE set adds useful upgrades all over the air frame. I recommend this photo etch set and I would like to thank Eduard for the review sample.