Internet Modeler : New Releases : Aviation
RSS News Feed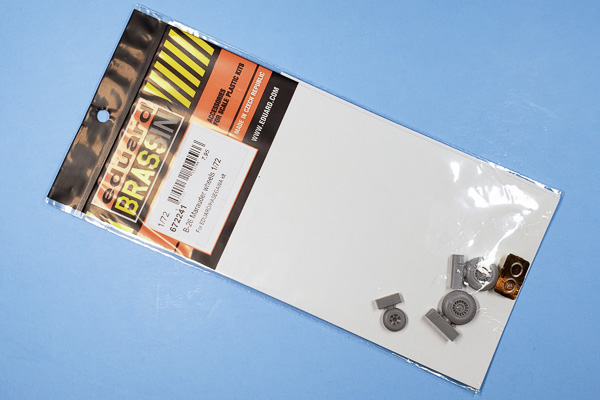 Eduard 1/72 Brassin B-26 Marauder Wheels for Hasegawa Kit
Overview
Injection molding can produce some petite detailing, but there's always a challenge with getting detail wrapped around parts that are split between the mold halves. The biggest culprit to this are tires, as it is almost impossible to mold a tread pattern crisply around the tire. This makes tires & wheels an ideal item for aftermarket resin, especially ones that have distinct tread patterns. That's the case with the B-26 Marauder, so Eduard has stepped up with this set for the Hasegawa 1/72 kit.
The Wheels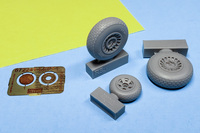 As part of their Brassin line, this set has more than just the wheels, so let's dig into what you get. The set provides the nose wheel and two main wheels in resin, a small fret of photoetch, and a set of wheel hub masks. The nose wheel has a diamond tread pattern while the main wheels have rectangular tread, and that tread is very cleanly molded. The main wheels don't have much else, just paint the tires, mask the hubs and paint those, then stick them on the kit gear legs. The nose wheel has more to it, as there are options available in the form of the photoetch. The nose wheel hub is molded with the spoked hub, but some B-26s had solid hubs. This is handled with the two photoetch parts, which fit over the hub and provide a smooth hub.
Conclusion
This is a simple set, with minimal work needed, but it will make a noticeable difference in your finished Hasegawa B-26 Marauder build. My thanks to Eduard for the review sample.