Internet Modeler : New Releases : Aviation
RSS News Feed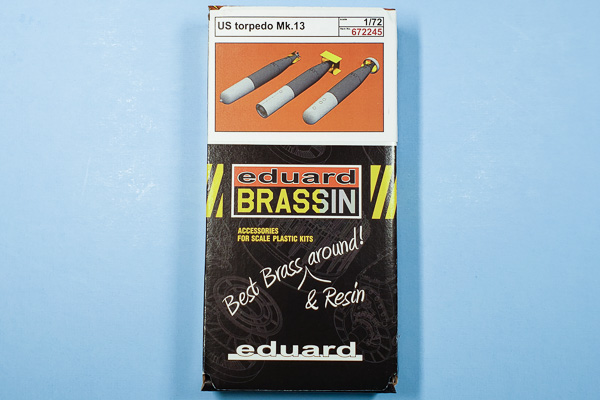 Eduard 1/72 Brassin US Torpedo Mk. 13
Overview
The Mark 13 torpedo was the primary aerial torpedo during the Second World War, and was in fact the first American torpedo designed from the beginning to be air-launched. The Mark 13 torpedo was used in all the major USN torpedo bombers of the Second World War, including the Douglas TBD Devastator, Grumman TBF Avenger, and Curtis SB2C Helldiver.
The Torpedoes
This set contains three torpedoes, with all three being slightly different. The Mark 13 torpedoes underwent quite a few changes throughout its life as research improved the success rate of these air-dropped weapons. To accommodate these differences, each torpedo is split into a front and rear half, with the rear portion being the same across all three options. These get photoetch fins and resin propellers, and the second and third options get rings around the fins. The first one, instead of a ring, has box fins.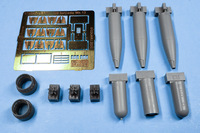 Moving on to the front end, the first option has a wooden front known as the pickle barrel, which supposedly aided in cushioning the torpedo on entry. This also has extra photoetch bits on the front end. The other two share a similar shape but have different details. One is just a rounded end with a small nub at the tip with the instructions saying to paint it gray, while the other has a small photoetch ring at the tip and should be painted copper. All three torpedoes have no stencils or colored bands or anything like that, so this set does not include any decals.
Conclusion
If you're looking for an interesting addition to your Devastator, Avenger, or Helldiver build, this set would be a good one to have. The only thing I wish had been included would be the cart used to carry the torpedo to the plane, but looking at pictures this doesn't seem like too challenging to build from scratch. My thanks to Eduard for the review sample.