Internet Modeler : New Releases : Aviation
RSS News Feed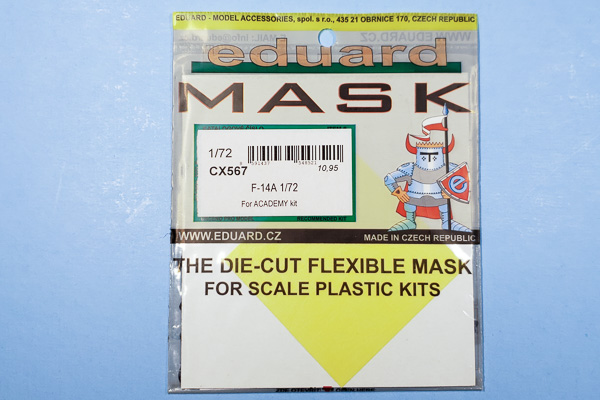 Eduard 1/72 F-14A Tomcat Mask for Academy Kit
Overview
The Academy 1/72 F-14 Tomcat is a very buildable kit that looks good straight out of the box. Paint schemes are numerous and span the current low vis TPS era and the classic gull gray and white colorful era, so there's lots of options out there. Eduard has tackled this kit with a few accessory sets. This one provides all the main masks you would need.
The Mask Set
As expected with mask sets, this one provides everything you will need to mask the canopy. The main canopy has four pieces for each section, covering all the corners. Once those are in place, you will have to add liquid mask to fill in the center portion. For the windscreen, there are three pieces to mask that off. Not mentioned in the instructions, but a useful tip for these modern jets is to use the surrounding mask for the center portion of the windscreen to help paint the tint that is often found on these jets.
The other half of this mask set covers the wheels. The Tomcat, like most US Navy aircraft, has two nose wheels, so there's four masks for those, one for each side of each wheel. The main wheels get the same, and both are designed to mask the tire and paint the hub. Should you wish to go opposite, you can use the center portion of the mask and mask the hub and paint the tire.
Conclusion
While these masks aren't a critical requirement for models, they simplify things so much and are so affordable that I can't recommend them enough. They make the process of preparing your canopy for painting so simple, and this set is no exception. My thanks to Eduard for the review sample.