Internet Modeler : New Releases : Aviation
RSS News Feed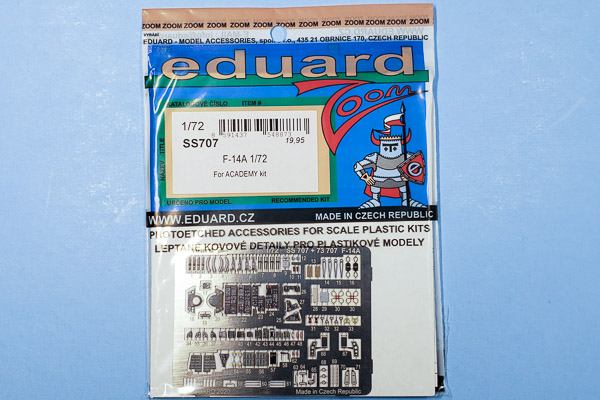 Eduard 1/72 F-14A Tomcat Zoom PE for Academy Kit
Overview
The cockpit in the new-tool Academy F-14 kit is very nice out of the box, but you have to be ready to do a lot of painting. For those looking for a quicker route through all that detailing, the Eduard pre-painted photoetch is the perfect blend between detail and simplicity.
The Set
The photoetch set instructions start out with adding details to the seats. Because it's a Tomcat, you get the joy of doing the seats twice. There's quite a bit provided for these seats beyond the expected seatbelts. On the headrest portion of the seat you get a top plate, new ejection pull handles, and some data placards. The sides of the upper cushion get some straps on the side, with some matching ones on the lower cushion. Also on the lower cushion, you get an ejection pull handle there as well. The seat sides get a trio of handles, and then the rest is the seat belts. These are made up from six different belt pieces, and when all of these parts are in place you'll have a very nice looking set of seats.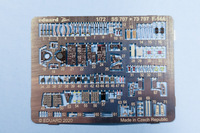 For the cockpit bits, there's quite a bit going on here as well (the set has well over 100 parts in total), and you will have to remove some surface details to get everything to fit flush. The front instrument panel four panels that are layered from two pieces, with about a dozen additional pieces to complete the assembly. The rear panel is not quite that complex, with only one layered panel. The radar scope does get a curved piece, though, so that adds a bit of complexity. A total of eleven pieces are used on the rear instrument panel. The side consoles for both front and rear offices are flat pieces, with an additional folded piece for the throttle. The final remaining details include rear view mirrors, a grab handle on the windscreen, and details on the frame and instrument panel covers.
Conclusion
If you're looking for a fairly easy way to avoid painting up your Academy F-14 cockpit, this set will be a perfect choice. There is minimal folding, and lots of detail. My thanks to Eduard for the review sample.